LONDON, England (CNN) -- Irish national carrier Aer Lingus has rejected a second takeover attempt by budget carrier Ryanair.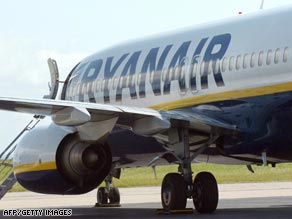 Ryanair claims the deal will create 1,000 jobs.
Ryanair offered to pay $1.78 (€1.40) a share -- or $950 million in cash -- for the remaining 70 percent of Aer Lingus, a 28 percent premium over the current stock price.
But Aer Lingus' board rejected the offer in a statement Monday and urged shareholders to take no action.
"Aer Lingus remains a strong business with significant cash reserves and a robust long term future. The Board believes that the Offer significantly undervalues Aer Lingus," the statement said.
Ryanair initially tried to buy Aer Lingus two years ago and already owns 30 percent of the company's shares.

Watch as Ryanair seeks merger »
If Ryanair gains control of Aer Lingus, it would mark the first time one of Europe's "legacy" -- or formerly state-owned -- carriers falls under the control of a low-cost pioneer.
Ryanair founder Michael O'Leary has said in the past that his airline will grow from being Europe's largest low-cost carrier to become the region's biggest carrier full stop as it takes on the so-called legacy airlines.
Business 360 blog
Many of those, including Italy's Alitalia, Greece's Olympic and Aer Lingus have wilted under the pressure of Europe's widely successful no-frills airlines.
Ryanair's bid two years ago failed after European regulators and the Irish government balked at the proposal.
The Irish government currently owns just over 24 percent of Aer Lingus shares.
But Ryanair argues that the aviation industry has changed vastly in the past two years. In a statement released on Monday, Ryanair mentioned the unprecedented hike in fuel prices and the collapse of a number of carriers.
It also said its proposal falls in line with the consolidation of the industry in Europe, including the proposed merger of rival British Airways with Spain's Iberia.
Ryanair claims the deal will actually create 1,000 jobs, as it would expand the Aer Lingus short-haul fleet. It also says Ireland will benefit from "one strong" national carrier that serves both short haul and long haul passengers. It proposes to keep the two airlines separate.
E-mail to a friend

CNN's Jim Boulden contributed to this report.