(CNN) -- Russian gas giant Gazprom has reiterated its threat to cut supplies to Ukraine on January 1 if it does not settle an outstanding debt.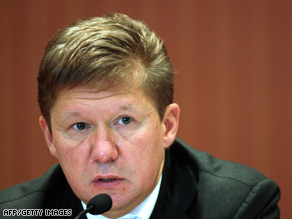 Gazprom chief executive Alexei Miller says the Ukraine has until January 1 to pay its debts.
Gazprom claims Ukraine owes it more than $2 billion in unpaid gas bills and fines.
Gazprom chief executive Alexei Miller reissued the threat on the same day the company announced a 85 percent jump in net profit to $20.8 billion for the six months ended June 30.
Miller told the Russian news channel Vesti that Gazprom was in the last round of talks with Ukraine but that it "will have no grounds fro supplying gas" to it if the debt was not paid.
Gazprom, the world's largest gas producer, supplies a quarter of the European Union's gas needs.
Its profit jump comes on the back of higher sales and soaring gas and oil prices in the first half of 2008.
The company is still expecting a record year despite the slump in prices as the world enters a recession.

Watch a report on Gazprom's threats to cut off gas supplies to Ukraine »
However, it did say the credit crunch had affected its ability to refinance loans and attract new funding.
"At the moment the management can not certainly assess the impact of further decrease in financial markets' liquidity and the growing instability of foreign exchange and stock markets on the group's financial state," the company was reported as saying.
Gazprom has borrowed more than $400 million in the past two months as it seeks to pay down nearly $11 billion in debt by mid 2009.
It received $153 million this month from Vnesheconombank, the Russian bank handling bailout funds for companies, and $250 million from French bank Societe Generale, according to media reports.
E-mail to a friend