By Jim Clancy and Wayne Drash
CNN

NEW ORLEANS, Louisiana (CNN) -- Jazz musician Henry Butler calls himself an ambassador of New Orleans music. He loves the city where he was born and lived for decades. But like tens of thousands of others displaced by Hurricane Katrina, he has yet to return to live.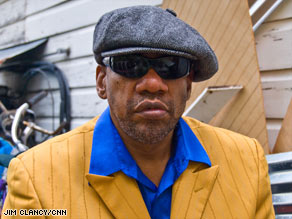 Henry Butler says New Orleans needs to get crime under control so people such as him will return to live.
These days, he stays in hotels or with friends when he visits the Big Easy. It pains him, but that's the reality for many of those exiled by Katrina.
"I love New Orleans. I love the music. I love the food. I love the people here. And we would all love to see New Orleans function better," Butler says. "[But] do I relocate and reinvest, or do I reconsider?"
His reasons for not returning are many. His home in the Gentilly neighborhood was wiped out and has yet to be rebuilt. But he says the city's spiraling crime rate plays a major factor in his decision on whether to return.
"You got to understand: I'm a blind person who if I was in the wrong area and somebody wanted to get me, it would be pretty easy for them to do it," he says.

Go along with Butler on a jazz jam »
City officials and residents who remain in New Orleans are keenly aware of that perception. The city had a high crime rate long before Katrina. But many here say authorities must keep crime in check for the long-term health of the city -- and to attract back the more than 100,000 people displaced by the storm.
New Orleans is home to about 327,000 people, compared with 453,000 before Katrina, or about 72 percent of the population before the August 2005 storm, according to Mayor Ray Nagin's office. iReport: Are you rebuilding in the Gulf?
The FBI on Monday released its latest crime statistics based on 2007 figures. While violent crime across the nation was down, New Orleans bucked that trend: Murders rose from 162 in 2006 to 209 in 2007; rapes jumped from 87 to 115; and aggravated assault increased from 1,245 to 1,973, according to the FBI.
Eighty-five homicides have been recorded this year, slightly up from 83 by early June last year, New Orleans police spokesman Bob Young says. But violent crimes such as rape and armed robbery increased 57 percent and 24 percent, respectively, in the first three months of the year, compared with 2007, according to the most recent police statistics.
Some say the city's future hinges on whether it can tackle the crime crisis.
"Violent crime worries people," says Rafael Goyeneche, head of the Metropolitan Crime Commission, a local crime watchdog. "It's unacceptably high as people are trying to decide whether to return or remain here. That's critical."

See photos around the city: Crime is "plaguing us" »
Goyeneche says getting crime under control would enable the city not just to sustain itself but to thrive.
Don't Miss
Nagin concedes he's also troubled by the spike in violence.
"That keeps me up at night," he says. "But on the flip side, I see a city that is struggling, getting better every day on the road to full recovery."
The mayor and police have launched a series of initiatives to try to curb the violence.
Patrol officers are working 12-hour shifts in June because crime typically jumps in summer, with certain high-crime areas targeted by a police task force.
Nagin also has pledged that 200 closed-circuit "crime cameras" will be in place around the city by July; about 60 percent of them are up and running, according to police.
Police are attracting and training new recruits, helped by a $1 million nationwide ad campaign. There are 1,435 police, with a target of 1,600 to get back up to pre-Katrina force levels, officials say.
About 360 Louisiana National Guardsmen have remained in the city to patrol hard-hit, scarcely populated areas. The Guard plans to start a phased withdrawal on July 1, but the mayor is seeking an extension -- a request that Gov. Bobby Jindal is considering.
Some residents demand to know when they'll be as safe as the tourists. Much of the violent crime has occurred far from the French Quarter and other popular tourist areas.
Moreover, some New Orleanians say they are worried the city risks being rebuilt on two different paths. One is a patchwork of unsafe, poor neighborhoods people want to escape, and the other is a secure tourist mecca attracting visitors from around the world.
"We really have to make the most of this. Not many cities have the opportunity to rebuild and we do," said Keva Landrum-Johnson, Orleans Parish district attorney. "So it is extremely critical and important we make the right choices."
She adds, "Right now what's plaguing us is the violent crime. We are working very hard to get those under control with the police department, but those numbers are very high right now."
A violent crime task force within her office boasts a 93 percent conviction rate, using better-paid, experienced prosecutors to take violent offenders off the streets.
The city also has gotten support from residents who say they won't tolerate crime anymore.
"The fundamental difference is citizen activism," Goyeneche says. "The objective is to rebuild the criminal justice system, not in the image of what it was pre-Katrina, but a more effective, efficient crime-fighting model."
Nagin agrees. "The citizens are stepping forward and saying, 'This is our city and we're going to fight for it and bring it back.' "
Nagin has faced withering criticism from many quarters since Katrina. In his recent State of the City address, he was notably optimistic and conciliatory. Against the backdrop of the Mississippi River, he praised the efforts of those rebuilding neighborhoods.
"Always improvising, reinventing and making a way out of no way, our citizens [are] changing course, like the river," he said.
Nagin tells CNN, "City Hall and what it represents has been a certain 'Big Easy' mentality. Citizens are now saying 'Look, we don't accept this.' They push me, they push the City Council, and I think it's all part of the process to make us a better environment."
As for Butler, he'll keep playing the city's jazz. But he greets officials' statements about cracking down on crime with a dose of skepticism. In some ways, he sounds the tune of a blues man.
"I don't think they're interested in controlling the crime right now. They say they are, but they're not doing much about it. That's been the case for a long time," he says. "You would think if you really put a full effort into something, you could do it."
E-mail to a friend

All About Hurricane Katrina • New Orleans • Crime