From Kelli Arena and Carol Cratty
CNN

HAGERSTOWN, Maryland (CNN) -- Chante Wright was set to testify against a career criminal when she was gunned down on the streets of Philadelphia in January. Investigators believe it was a hit ordered from prison, by an inmate using a cell phone.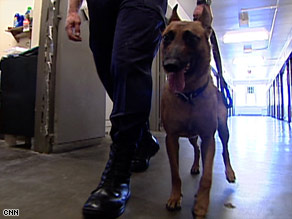 Maryland corrections officials have begun using dogs to sniff for cell phone contraband.
Authorities across the country are trying to prevent similar crimes from occurring.
"We owe it to the victims to not allow inmates to continue to run their enterprises from behind our bars," says Maj. Pete Anderson, who commands a canine unit that sniffs out cell phones inside Maryland prisons.
Cell phones have become the hottest contraband in prisons these days, authorities say. For $400 a pop, the phones can be used to run criminal enterprises, plan escapes and arrange for other illegal items such as drugs to be brought in.
Inmates hide the phones inside boxes of food, cutout books, in shoes with hollowed out soles and in mattresses and pillows -- basically anywhere is free game to hide a cell phone, says Sgt. David Brosky, a Maryland corrections officer.
Authorities say sometimes the phones lead to violence among inmates desperately wanting to communicate with the outside world.

Watch dogs sniff out cell phones »
"Inmates can make calls and conduct criminal enterprises from a cell phone if we don't try to limit that," says Mike Stouffer, Maryland's Commissioner of Correction.
"The cell phones are utilized to go around, get unrestricted access to the community, and that's not a good thing. Things can occur -- bad things can occur that way."
Maryland correction officials in June began one of the first programs using dogs to find the cleverly hidden phones. The program breeds and trains dogs to find cell phones hidden in the state's prisons.
American Morning
Watch Kelli Arena's three-part crime series on CNN's "American Morning."
Mon.-Weds, 6 a.m.- 9 a.m. ET
"I first really wasn't too keen on the idea. I didn't think they'd be able to separate the odor of the phone versus a lot of the stuff that's in the institution," says K-9 trainer Lt. Rodney Jordan. But to his surprise, he had a dog trained and ready for duty in just six weeks.
Virginia is the only other state that uses dogs to find cell phones, but it doesn't do its own training. Officials say the use of cell phones by prisoners nationwide is on the rise. It is illegal in about 15 states to have a cell phone in a prison or to give one to an inmate. In other states, it is against prison regulations, authorities say.
An April 2008 report on the use of cell phones in Florida's prisons found that 226 phones had been confiscated in the first six months of this fiscal year. That's a dramatic increase from the two previous years when 140 phones and 53 phones were found, the report said.
Maryland officials say more than 800 cell phones got into its prisons last year.
"These institutions are like cities, and a lot of goods and materials and people have to come in and out all the time," says Stouffer.
Sometimes, the phones are just thrown over fences. Other times, they are hidden in food and other storage cases. Authorities believe deliveries from outside are the most common methods of getting the phones inside the prisons.
"We bring in boxes, ... truckloads of things all the time, so we have to have methods and procedures and policies to search these things and keep them out," Stouffer says. "It's an extremely difficult task because of the size."
Some corrections personnel have been caught bringing in the contraband and making a quick buck. "It's unfortunate," says Stouffer, "but sometimes it occurs."
He says most prison workers do an outstanding job, but a few stray. "Those are the ones that we're looking for, and those are the ones we have zero tolerance for," he says. "They're jeopardizing everybody else that works in the facility, and we cannot tolerate that."
The program in Maryland has only been in place for a couple of months, but already its three cell phone dogs have found nearly two dozen phones. That doesn't count the phones inmates ditch when they hear the dogs coming, officials say.
"Well, we've had them flush 'em down the toilets and we've had them throw 'em off the upper levels of some of the tiers," says Anderson.
Trainers say that every item has a unique signature scent that dogs can pick up, so they can distinguish the scent of a cell phone from the smell of a television set or other item.
The program has been so successful that Maryland officials say prison officials from several other states have contacted them requesting help in training dogs.
The three dogs being used are a Belgian Malinois, a German shepherd mix and a springer spaniel. In addition, corrections officers have 20 drug dogs and 11 patrol dogs.
Anderson says when he started training dogs more than a decade ago for corrections work, he never dreamed that cell phones would some day be a target.
But times are changing.
"Our goal is to be a progressive K-9 unit, and in order to do so we've got to be willing and able to make changes as the needs of the institution change," Anderson says.
E-mail to a friend

All About Criminal Sentencing and Punishment • Dogs • Police