By Grace Wong
For CNN






LONDON, England (CNN) -- More than a decade since it was first pioneered, a technique that greatly reduces the trauma of lung surgery still isn't widely used. But that finally may be starting to change, doctors say.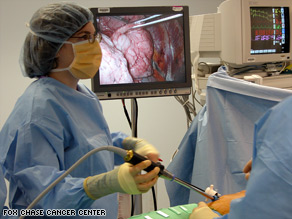 A less invasive form of surgery for lung cancer uses a tiny camera mounted on a thin tube.
The less invasive form of surgery for lung cancer can significantly decrease recovery time when compared to open chest surgery. That not only allows patients to go home sooner but also can play an important role in reducing pain and preventing complications.
"The earliest I've seen someone going back to work after the procedure is one week," Dr Daniel DeArmond, an assistant professor in cardiothoracic surgery at the University of Texas Health Science Center, said in regard to a patient of his who underwent the minimally invasive surgery.
Recovery times vary depending on the patient, but because the procedure is less traumatic than traditional surgery, patients do not face strict limitations on their activity following surgery, he says.
In conventional surgery for lung cancer, the surgeon makes a six to 10-inch incision on the chest and spreads the patient's ribs open to gain access to the lung. The intentional fracturing of the ribs is extremely painful for the patient and can take about six weeks to heal.
Vital Signs
Each month CNN's Dr. Sanjay Gupta brings viewers health stories from around the world.


By contrast, visually-assisted thoracic surgery, also known as VATS, uses two to four small incisions less than two inches long. Instead of spreading the patient's ribs, the surgeon uses a miniature camera mounted on a thin tube to view the organs.
Would you opt for less invasive surgery over traditional surgery? Do you think it should be more widely available?
Surgeons first started developing the technique in the early 1990s, but it has been slow to gain popularity due to a combination of factors ranging from training and cost to concerns about its effectiveness.
Don't Miss
"Because we're dealing with cancer, many surgeons have been more reluctant to do these types of surgeries. There is a concern that it's not getting all the cancer out," says Dr Walter Scott, a thoracic surgeon at Fox Chase Cancer Center in Philadelphia.
But recent research has shown that minimally invasive surgery is just as effective as traditional surgery in removing lung cancer and can reduce the likelihood of complications and significantly accelerate recovery time.
Scott recently conducted a study comparing 140 patients who had a lobectomy via VATS and those who had traditional surgery. The findings were "basically consistent with other retrospective analyses that show VATS is at least as good as the open procedure in terms of ability to remove cancer," he says.
Today, the procedure is almost exclusively available at academic centers and select hospitals. Roughly one in five of the lobectomies in the U.S. are done through VATS, according to estimates. A lobectomy is the procedure in which a section of the lung is removed and is the most common type of surgery for lung cancer. Test your smoking knowledge
Many doctors, however, expect those numbers to rise. "New surgeons are increasingly coming out of training with advanced VATS skills and understand the benefits of performing a VATS lobectomy in appropriate patients," Dr. Bernard Park, a cardiothoracic surgeon specializing in lung cancer at Memorial Sloan-Kettering Cancer Center in New York, told CNN.
Park is currently leading a study examining the quality of life of patients after they undergo lung surgery. He said findings show that those who had minimally invasive procedures have vastly improved results in terms of pain, fatigue and shortness of breath when compared to those who underwent open surgery.
November is Lung Cancer Awareness Month, and a cursory glance at the figures are alarming. Lung cancer is the leading cause of cancer deaths worldwide. In the U.S., more people die from lung cancer than breast, colon, and prostate cancers combined.
The majority of lung cancer deaths are due to smoking, but exposure to cancer-causing substances like radon and asbestos, as well as second-hand smoke, can also raise the risk of getting lung cancer.
Depending on the stage and type of cancer, treatment may include a combination of radiation therapy, chemotherapy and surgery.
According to Dr DeArmond, the best candidates for minimally invasive lung surgery generally are those with early-stage cancer that is located more in the periphery of the lung.
Unfortunately, most lung cancer is diagnosed in late stages, he says. But screening is being approached more aggressively.
"It may be that improved screening increases the number of people treated with this modality for lung cancer."
E-mail to a friend

All About Lung Cancer • Surgery • Medicine