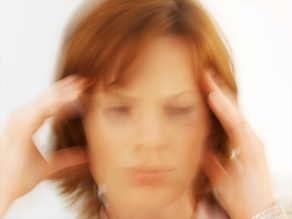 A study finds that women who had migraines with auras were more likely to suffer stroke.
Overview
A 2007 study indicates that women who have migraines with auras are at increased risk for stroke. The study, led by researchers at the University of Maryland School of Medicine in Baltimore, looked at 1,000 African-American and white women from ages 15 to 49 and was published in the journal Stroke in August 2007.
Questions and answers
What did the study find?
Elizabeth Cohen, CNN medical correspondent: If you are a woman who gets migraines, you're not only going to suffer from this horribly painful sort of headache, but you're also at a higher risk for getting a stroke. We're talking not just migraines by themselves, but migraines with auras (auras are visual disturbances like sparkling, zig-zagging lines that blur the vision). For many, they're a warning sign that comes just before getting the migraine. If you have these migraines with auras, you're 1.5 times more likely to have a stroke than someone who has migraines without them.
Even more importantly: If you use birth control pills, you smoke and you get these migraines with auras, your chances of getting a stroke are seven times higher. Doctors say the reasons are not well-understood, but there is something about the aura that puts people at this higher risk for stroke.
What if I can treat the migraine before it happens? Will that lessen my chances of getting a stroke?
Cohen: That's not yet known because scientists aren't even sure yet why the migraine with aura is so much more potent than a migraine without one. One thing to consider: The reality is that 20 out of 100,000 women who get migraines without auras will have a stroke. So that 1.5 times risk is really only 30 women out of 100,000. Not a huge risk there, so this study should not alarm women too much.
Is there anything a woman can do to reduce the risk of stroke, given that chances are increased with migraines?
Cohen: Doctors say you can minimize your chances by cutting back on things that seem to increase your chances of getting a stroke. Obviously you can't control getting the migraines, but you may ask your doctor about the benefits of getting off birth control, and any doctor will say stop smoking. Do anything to reduce your risk, because all of these things together really amplify your risk for having a stroke.
Doctors say cutting even just one risk out could have an enormous benefit on your stroke risk. Both smoking and birth control confer about the same risk, so stopping one or the other, or both if you get these migraines with auras, could really help you.
E-mail to a friend


All About Stroke