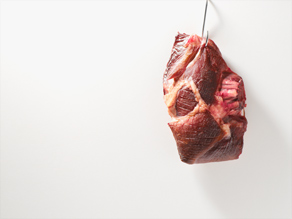 The average consumer won't know whether he or she is buying cloned meat.
Overview
Soon, the food you put on your dinner table may be from cloned animals and chances are, you won't even know it. The Food and Drug Administration announced in January 2008 that's it OK to sell meat and milk from cloned cattle, pigs and goats. What does this mean to the consumer? Is cloned meat safe? How does it differ from regular animal products?
Questions and answers
Why is it going to be difficult to tell if you're buying cloned products?
Dr. Sanjay Gupta, CNN chief medical correspondent: Because they won't be labeled. Meat from cloned animals looks just like meat from traditionally bred animals. If it's prepared the same way and sold without labels, the average consumer will have no idea he or she is eating cloned meat.
Even though the FDA has deemed cloned foods safe, a lot of people still question the ethics of cloning animals as well as the safety issue. When the FDA held focus groups, one-third of those asked said they wanted nothing to do with cloned products. Without FDA labels, it's going to be nearly impossible to tell whether you are buying cloned products.
Why aren't they requiring the products to be labeled? And what can consumers do if they don't want cloned food?
Gupta: FDA and officials from the USDA said in January that it was not up to them to require labeling -- it was only for them to decide, scientifically, if cloned food was safe. They have based their decisions on data from a National Academy of Sciences study done in 2002, as well as from a peer-reviewed group of independent scientific experts on cloning that found the FDA's methods to evaluate the data were adequate. The FDA said that since it found cloned products to be safe, there is no reason to label them differently. Agency officials said if companies with products from non-cloned animals want to label them as such, they can. But that gets expensive. When asked what consumers should do if they are hesitant to buy meat and milk after cloned products enter the marketplace, the USDA said people can buy organic. But organic food costs more money as well.
It may look the same, but does it taste any different?
Gupta: The FDA has put a voluntary moratorium on the market, asking farmers who raise cloned animals not to sell cloned products. So there isn't much cloned meat or milk out there right now. Last year the Los Angeles Times got hold of some cloned beef and had a local chef cook it up into steaks and burgers and asked scientists and food experts to taste it. We spoke to two of those tasters, Dr. Barry Glassner from the University of Southern California and Greg Jaffe of the Center for Science in the Public Interest, and both said there was very little difference.
Jaffe found the meat to be fine, a little tough, because it had been frozen. But he said taste, texture and color were the same as regular meat. Glassner liked the taste very much. He said it tasted great, exactly like regular beef. During the taste test, they didn't know which was which when they were tasting it.
When might cloned food be on the market?
Gupta: These products will come from offspring of cloned animals, and there are about 600 cloned breeding animals in this country, so it will take time to breed them and get the food out to consumers. Neither federal agency would commit to a timetable, but it will be a couple of years before cloned food appears on our grocery store shelves.
E-mail to a friend


All About Food and Drug Administration • Cloning