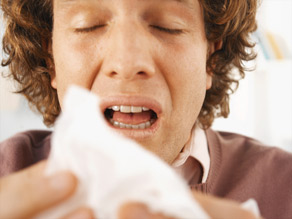 The procedure to clear up the patient's sinus includes putting a wire through the nose and inflating a balloon.
Overview
Sinusitis affects 39 million people each year, making it one of the most common health problems in the United States. Makers of a noninvasive procedure called balloon sinuplasty say this treatment provides instant results and a quick recovery time.
Questions and answers
What exactly is balloon sinuplasty?
Dr. Sanjay Gupta, CNN chief medical correspondent: Balloon sinuplasty is a noninvasive outpatient surgical option for patients suffering from chronic sinusitis. It works similarly to how angioplasty uses balloons to open up a blocked artery. During the procedure, the patient is placed under local anesthesia, and a wire is inserted through the nose. Then, a balloon catheter is passed over the wire and inflated in the sinus. This restructures and widens the walls of the blocked passageway. This allows the fluid buildup in the sinus area to naturally drain out.
How does this procedure compare with the more invasive sinus surgery?
Gupta: First off, surgery shouldn't be the first option for anyone. The majority of sinusitis suffered won't need surgery at all. Medications can often clear the infection, or it will heal on its own. Surgery is for those with chronic sinusitis. Dr. Richard Rosenfeld of the American Academy of Otolaryngology-Head and Neck Surgery says balloon sinuplasty is a good option for patients with mild sinusitis. It would be a good option for a patient whose main problem is blockage. The more traditional sinus surgery would be needed for patients with polyps or a trapped infection.
Is this technology widely available?
Gupta: Yes. More than 2,500 doctors in the United States perform the procedure. And it is currently covered by insurance, including Medicare.
If I don't want surgery, what at-home remedies can I use to relieve some of the symptoms?
Gupta: The National Institutes of Health offers some tips on the best way to relieve sinusitis symptoms such as headache, face pressure, loss of smell and nasal blockage. First, try an over-the-counter saline solution to flush out the nasal passage -- you can use it twice a day. Also, apply a warm, wet towel to your face area. Warming your face with the compress can help break down some of the blockage. Try to refrain from sleeping on your back; it can actually make the blockage worse. Lying on your side or slightly propped up or elevated is a better option.
E-mail to a friend