By Rebecca Sinderbrand
CNN
WASHINGTON (CNN) -- While Sen. Hillary Clinton was endorsing Sen. Barack Obama, some of those weighing in on her campaign Web site were less willing to concede.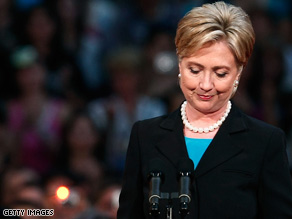 Sen. Hillary Clinton has endorsed Sen. Barack Obama, but some supporters are not willing to embrace him.
As Clinton wrapped up her remarks Saturday in Washington with a plea for supporters to work "as hard for Barack Obama as you have for me," many were posting messages saying they would never vote for the presumptive Democratic nominee. A few even called on her backers to visit Sen. John McCain's campaign Web site.
"I love her and will vote for her in 2012, but it's McCain all the way now," wrote one within moments of the New York senator's address.
Whether that sort of statement signals a defection to the presumptive Republican nominee, a voter less likely to make it to the polls on Election Day or just a bit of low-grade, post-primary grumbling -- it's the sort of sentiment that makes for a nagging, low-grade anxiety among nervous Democrats and brings a gleam to the eye of McCain.
As Democratic leaders met last month and decided to seat Florida and Michigan at half strength at the convention, angry Clinton supporters who had backed her plea for the seating of full delegations from both states began to chant, "Let's go, McCain!"
And as Clinton's presidential bid wound down, some of her loudest supporters began insisting they would consider voting for McCain if she were not the Democratic nominee.

Watch Clinton call on voters to support Obama »
A newly released CNN/Opinion Research Corp. poll found that if Obama does not select Clinton as his running mate, 22 percent of her supporters would stay home this fall -- and another 17 percent would vote for McCain.
Don't Miss
"That's just one estimate of the 'Clinton factor,' and it may not be an accurate predictor since it piles several hypotheticals on top of each other and asks people to guess their state of mind five months from now," said Keating Holland, CNN's polling director.
"Nonetheless, it does indicate that unmotivated Clinton supporters may be a bigger risk to Obama than defections from the Clinton camp to McCain."
The numbers haven't gone unnoticed at McCain campaign headquarters in Arlington, Virginia. In the days since Obama effectively claimed the Democratic nomination, the senator from Arizona's campaign has aggressively reached out to Clinton supporters -- women and blue-collar voters who were the strongest supporters of her presidential bid.
A few hours after her speech -- which was free of attacks on Obama's fall opponent -- McCain aide Michael Goldfarb wrote on the campaign's official blog that "there is a genuine affection for her here at McCain HQ. During her speech there was no small amount of pleading with the TV: 'Don't do it, you can still win!' "
"Sen. Clinton has really grown on us over here in Crystal City over the past few months," wrote Goldfarb, calling her an "impressive candidate" who "inspired a generation of women" but "fell victim to a vast left-wing conspiracy that resented her generally centrist foreign policy views."
And one of the first posts on the newly launched blog was a video of Abba's "Take a Chance on Me" under the headline, "Take a Chance on McCain." Wrote Goldfarb: "Attention disaffected Hillary supporters, John McCain is a huge Abba fan. Seriously.''
McCain's maverick reputation has always translated into significant support from independent voters, but the diminished appeal of the GOP brand this year may translate into a weaker showing. Despite emotions still raw from the bruising Democratic primary, an appeal to Clinton voters could be a tough sell for the Republican.
But McCain and his campaign have made bold moves in recent weeks to distance the senator from President Bush and the Republican Party, and redirect the focus to his independent image -- essential in his effort to reach disaffected Clinton voters.
McCain adviser Doug Holtz-Eakin blasted the president's handling of the economy, and campaign manager Rick Davis said the battered image of the national Republican Party made for an uphill climb for its presidential nominee.
McCain aides see an opportunity in Obama's struggle to connect with white working-class voters.
The campaign has assembled focus groups in Democratic areas where Obama struggled this spring to gauge McCain's potential appeal among, and best approach to, this demographic -- particularly those most angered by Clinton's loss. A campaign tour directed at these voters also is being planned.
The day after Obama claimed the nomination, McCain said, "There's a lot of Sen. Clinton supporters who would support me because of their belief that Sen. Obama does not have the experience or the knowledge or the judgment to address this nation's national security challenges."
In his election night address, McCain had taken a swipe at the press -- directly echoing continuing complaints from some of Clinton's strongest supporters that she had received unfair treatment from the press during her White House run. "Sen. Clinton has earned great respect for her tenacity and courage," he said. "The media often overlooked how compassionately she spoke to the concerns and dreams of millions of Americans and she deserves a lot more appreciation than she sometimes receives."
Sen. Joe Lieberman of Connecticut -- who has taken on increasingly high profile campaign roles on McCain's behalf -- announced Thursday that he was heading a new grass-roots organization, Citizens for McCain, with a direct appeal to Clinton's disappointed supporters.
In a message sent to the Arizonan's supporters after news broke that Clinton was suspending her run, the Democrat-turned-independent highlighted McCain's "very good working relationship with Sen. Clinton."
"The phones at the campaign headquarters have been ringing with disaffected Democrats calling to say they believe Sen. McCain has the experience, judgment, and bipartisanship necessary to lead our country in these difficult times," Lieberman wrote. "Many of these supporters are former supporters of Sen. Clinton."
He called on supporters to "reach out to Americans who are not currently involved in the campaign. Will you help us by recruiting your friends, family, and co-workers who may not consider themselves members of the Republican Party and ask them to join the Citizens for McCain organization?"
But can McCain really win over these loyal Democrats? History isn't on his side.
In the modern era, the pledge of mass defections by disappointed primary voters isn't rare -- but it rarely has a major influence on election results. The number of voters who identify with a given party may shift dramatically over time -- but among that self-selected group, loyalty tends to be remarkably high, with greater than nine in 10 usually supporting their party's presidential nominee, according to exit polling over the past few presidential cycles.
In 2004, despite similar anger from supporters of unsuccessful presidential candidate Howard Dean, 8 percent of Democrats supported Bush over Sen. John Kerry.
And on most major issues, McCain's positions are completely at odds with those of the Democratic working class and women voters he's hoping to reach: in favor of the Iraq war and Bush's tax cuts, against abortion rights and health care policies favored by many Democrats.
Obama advisers say they think the passion of the primary season will soon fade, and the party will unite around the senator from Illinois. But they've moved quickly to cement party unity: Last week, a thank you message -- and a plea for visitors to "show your support" for Clinton -- appeared on Obama's Web site.
E-mail to a friend

All About U.S. Presidential Election • Democratic Party • Republican Party