(CNN) -- Sen. John McCain on Monday sought to reassure Hispanic voters of his commitment to them after Sen. Barack Obama accused him of backing down on immigration reform for political reasons.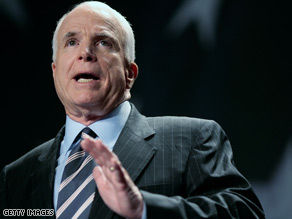 Sen. John McCain addresses the League of United Latin American Citizens last week in Washington.
McCain and Obama have been heavily courting the Hispanic vote this summer -- a voting bloc that is especially concentrated in some key swing states such as Colorado, Nevada and New Mexico.
McCain on Monday spoke to the National Council of La Raza, one of the country's largest Hispanic organizations.
Addressing the group Sunday, Obama said, "You hold this election in your hands."
"I know how powerful this community is. Just think how powerful you could be on November 4 if you translate your numbers into votes," he said at the San Diego, California, event.
Obama told group members that he would fight for them, while painting McCain as someone who could not be trusted to do the same.
"I know Sen. McCain used to buck his party on immigration by fighting for comprehensive reform, and I admired him for it, but when he was running for his party's nomination, he abandoned his courageous stand," Obama said.
"I don't know about you, but I think it's time for a president who won't walk away from something as important as comprehensive reform just because it becomes politically unpopular." See where the candidates stand on immigration
McCain on Monday explained his position to assure Latinos they could trust him.
Don't Miss
In 2005, he angered some in his party when he and Democratic Sen. Ted Kennedy unsuccessfully pushed for a comprehensive immigration overhaul bill that included a path to citizenship.
His sponsorship of the legislation angered some conservatives and nearly derailed his presidential campaign in 2007.
But at a Republican debate at the Ronald Reagan Presidential Library in January, McCain was asked whether he would still vote for his original measure. "No, I would not ... because we know what the situation is today ... that people want the borders secured first," he said, prompting accusations that he had flip-flopped.
McCain now says he would focus first on securing the borders before offering other ways to deal with illegal immigration.
"At a moment of great difficulty in my campaign, when my critics said it would be political suicide for me to do so, I helped author with Sen. Kennedy comprehensive immigration reform and fought for its passage," McCain said Monday.
"I cast a lot of hard votes, as did the other Republicans and Democrats who joined our bipartisan effort. So did Sen. Kennedy. I took my lumps for it without complaint. My campaign was written off as a lost cause. I did so not just because I believed it was the right thing to do for Hispanic Americans. It was the right thing to do for all Americans.
"Sen. Obama declined to cast some of those tough votes. He voted for and even sponsored amendments that were intended to kill the legislation, amendments that Sen. Kennedy and I voted against. ... I do ask for your trust that when I say, I remain committed to fair, practical and comprehensive immigration reform, I mean it. I think I have earned that trust."
McCain's campaign last month sent out a memo pointing to what it called five "poison pill" amendments Obama supported.
The McCain camp said the amendments, which would have lowered the annual visa quota for guest workers and sunset the guest worker visa program after five years, among other things, were "designed by special interests to kill the immigration reform deal."
Obama's campaign noted that McCain thanked the senator from Illinois for his efforts on immigration reform while speaking from the Senate floor in 2006.
Maintaining that McCain walked away from his commitment, Obama insisted Sunday that he would make comprehensive immigration reform "a top priority in my first year as president."
Meanwhile, McCain was expected to challenge his rival to visit Latin America.

Watch more about Obama's travel plans »
"While it is surely not my intention to become my opponent's scheduler, I hope Sen. Obama soon visits some of the other countries of the Americas for the first time," McCain was to say.
The senator from Arizona recently returned from a three-day swing through Colombia and Mexico.
Recent polls show Obama leading McCain by a 2-1 ratio among Hispanic voters.
Republican strategists have said McCain has to do well with Hispanic voters to win in November. In his 2004 re-election, President Bush received 44 percent of the Hispanic vote, but it was before the divisive political debate erupted over illegal immigration.
McCain's speech Monday marked the last of three major Hispanic events that featured addresses from both candidates. The two spoke last week to the League of United Latin American Citizens and earlier at the annual conference of the National Association of Latino Elected and Appointed Officials.
E-mail to a friend

All About Hispanic and Latino Issues • John McCain • Barack Obama