(CNN) -- One day after it was revealed that Sen. John McCain was to hold a closed-door meeting with Louisiana Gov. Bobby Jindal, a Republican, Jindal said Wednesday that there is no way he will fill the bottom half of the GOP presidential ticket.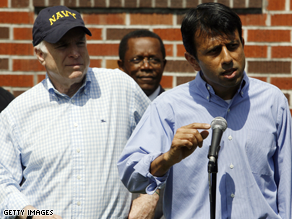 Louisiana Gov. Bobby Jindal, right, appears with Sen. McCain at an event in New Orleans in April.
"I'm not going to be the vice presidential nominee or vice president," Jindal told Fox News. "I'm going to help Sen. McCain get elected as governor of Louisiana."
"Let me be clear: I have said in every private and public conversation, I've got the job that I want," Jindal said.
It's not uncommon for those being considered for a slot on the presidential ticket to deny interest in the position, but Jindal's blanket statement is notable, especially in light of the fact that he is widely considered to be on McCain's shortlist.
It also came as the two men were scheduled to sit down at a private meeting the McCain campaign refused to discuss. On Wednesday afternoon, the meeting was postponed due to weather.
Speculation swirled around Jindal this summer when he was one of a handful of politicians McCain invited to his Sedona, Arizona, ranch. The long weekend was described as purely social, though former Massachusetts Gov. Mitt Romney and Florida Gov. Charlie Crist were also in attendance.
Jindal is considered a rising star of sorts in the Republican Party and has been lauded by several conservatives wary of McCain, including talk-radio host Rush Limbaugh.
But the decision would undercut one of the Arizona senator's chief arguments against Obama: his relative lack of experience. Jindal is nearly 10 years younger than Obama.
Meanwhile, a Republican source who attended a small private meeting with John McCain in New Hampshire told said the GOP candidate dropped a serious hint about his potential running mate.
The source said that "out of the blue," McCain told the gathering Tuesday that he thinks they are "really going to like" Minnesota Gov. Tim Pawlenty.
The GOP source noted that McCain also said nice things about Romney, former Arkansas Gov. Mike Huckabee and former New York Mayor Rudy Giuliani, but those appeared to be standard lines about former rivals.
This source said McCain may have been talking about Pawlenty because the meeting was with New Hampshire GOP delegates, and the Republican convention is in Pawlenty's state.
But this source said McCain's praise was effusive and noteworthy because it appeared to come "totally out of left field."
Veepstakes speculation swung into high gear Monday, when sources in McCain's campaign confirmed that there were discussions at high levels about naming a running mate this week.
Pawlenty is a longtime supporter of McCain's. He's from a swing state with considerable support across the Republican Party, including evangelicals, and has always been thought by Republican strategists to be on McCain's short list.
The Minnesota governor, who is visiting Washington, was at McCain headquarters in Virginia on Wednesday for meetings, according to a McCain aide.
Sources in the McCain campaign confirmed to CNN's Dana Bash and Gloria Borger that there have been recent discussions high in the campaign about possibly naming a running mate this week.
One source says that "no decision has been made" by the candidate. Another says that some within the campaign are arguing to hold off until Obama has named his decision "so there is an opportunity to counter-program."
In any case, a campaign source adds, this does mean the choice has been "narrowed" in McCain's mind to the point where he could spring a decision this week.
The prospect of a McCain vice presidential announcement this week, first reported by Bob Novak on the Human Events Web site, would change the subject from Obama's trip to the Middle East and Europe.
On Tuesday, Novak told Fox News that his report about McCain announcing his running mate this week may have been "a dodge" by the campaign to grab some headlines.
The conservative columnist went on to say that he received the tip from a "very senior McCain aide" and that the campaign "suggested I put it out" so he posted something online. Now he says he's been told by "certain people" he may have been used. If that's the case, it's "pretty reprehensible," Novak said.
On Tuesday, McCain avoided answering any questions on a timetable for the decision.
At a news conference in Epping, New Hampshire, McCain was asked whether this was a good week to pick a running mate. Laughing, he responded, "thanks, no. We have the same answer as we've always had. We'll ... announce when we are ready to announce. ... We'll let you know when we have an announcement."
E-mail to a friend

CNN's Ed Hornick, Dana Bash and Alexander Mooney, along with Time's Mark Halperin, contributed to this report.
All About John McCain • Bobby Jindal • Tim Pawlenty