By Jonathan Mann
The worst-kept secret of this year's election campaign is out.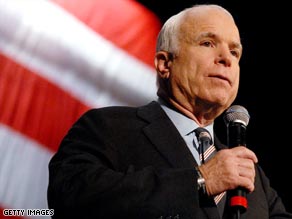 John McCain is campaigning but an opinion poll indicates media bias against him.
It's been on the United States' front-pages for weeks, on TV too, and now even journalists can't easily deny it.
This week, as Barack Obama toured the Middle East and Europe, it was painfully obvious that the U.S. media just like Obama better.
A U.S. media watchdog called the Project for Excellence in Journalism found that since the day Obama clinched the Democratic Party nomination for the presidency, he's had an important role in 78 per cent of all campaign stories, while Republican candidate John McCain featured prominently in 51 per cent.
And that doesn't fully reflect whose picture is on the cover and who's been buried, back next to the ads.
Ordinary Americans tell pollsters that they can see the difference. A new Rasmussen Reports survey found that fully 50 per cent of independent voters see pro-Obama bias in their news. Only 12 per cent think the bias helps McCain.
Part of the reason is that the media love a good story. Obama is a fresh face and, of course, the first serious African-American contender for the presidency.
He had a dramatic contest against Hillary Clinton and he's done far better than expected -- turning out record numbers of voters, raising record amounts of cash. His success has created its own story.
It might be politics too. Republicans deride the mainstream U.S. media for being biased against them; it's part of the background noise of U.S. political life.
John McCain, Obama's Republican rival, did once enjoy his own kind of upbeat coverage as the most independent and outspoken Republican candidate.
But he's been eclipsed, his own campaign trips overseas largely overlooked by the U.S. press.
Will it cost him the election?
Americans do notice other things in their newspapers - the U.S. is at war in two countries and its economy seems to get worse by the day.
And they notice things newspapers don't have to tell them, like the painful increase in the price of gasoline and other products that depend on it.
Helpful news coverage won't be the only thing that gets people to the polls, but it sure won't hurt Obama's chances once they're there.
E-mail to a friend

All About Democratic Party • Barack Obama • John McCain • Republican Party