From Ed Hornick
CNN
WASHINGTON (CNN) -- A new poll out Thursday indicates that fewer than a quarter of Americans think things are going well in the country.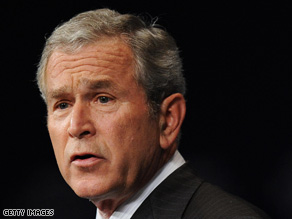 A new poll says 30 percent of Americans approve of President Bush's job performance.
The CNN/Opinion Research Corp. Poll showed that 24 percent have a positive outlook for the country, while 76 percent say things are on the wrong track.
It is the lowest number on record since 1980 and the third time in four decades that the number has dropped so low.
Recent CNN/Opinion Research Corp. polling has shown a steady drop in the country's mood. In April 2007, 51 percent said things in the country were going badly. A year later, 70 percent reiterated that position.
The poll questioned 1,041 adult Americans by telephone July 27-29, 2008. The margin of error was plus or minus 3 percentage points.
"Only three events -- Watergate, the Iran hostage crisis, and the economic downturn of 1992 -- have driven below 30 percent the number who think things are going well," CNN's polling director Keating Holland said. The mood of the country has been assessed since 1974.
Don't Miss
Only four presidents -- Richard Nixon, Gerald Ford, Jimmy Carter, and the elder George Bush -- have seen that number drop below 30 percent during their time in office; their parties all lost the White House in the next presidential election.
The poll also examined Americans' views on Congress and President Bush, showing a widespread bipartisan fallout.
Only 30 percent in Thursday's poll said they approve of how Bush is handling his job, while 69 percent disapprove.
Approval of the Democratic leaders in Congress, meanwhile, is almost as bad: Thirty-six percent of those polled said Democrats are handling their job well, while 63 percent said they aren't.
The overall views of Congress are even lower: 22 percent approve of how Congress is handling its job, and 77 percent disapprove.
President Bush joined that chorus Wednesday, when he complained about Congress' inaction on handling the energy crisis facing the nation.
He called on Congress to allow offshore oil drilling, saying the need to lower crude and gas prices made it urgent.

Watch more on the congressional stalemate »
Lawmakers had been debating legislation to allow drilling for oil along the U.S. coastline, particularly in Florida and California. The Senate, which is set to begin summer recess after this week, has been gridlocked for days on various energy bills.
Bush criticized Democrats, who he said are refusing to allow a vote on legislation to expand domestic oil drilling. "American drivers are counting on Congress to lift the ban and so are American workers," Bush said.

Watch more of Bush's comments »
Bush's views on offshore drilling appear to match those of many Americans, according to another CNN/Opinion Research Corp. poll out Thursday.
Just more than half of those polled said the ban on additional offshore drilling is a major cause of high fuel prices. The same number cite the Bush administration and the war in Iraq as causes.
The poll indicates that about two-thirds of Americans think U.S. oil companies and foreign countries that produce oil are major causes of higher gas prices.
One group gets relatively little blame. Thirty-one percent of those polled said the Democrats in Congress are a major cause of gas prices.
The poll had a margin of error of plus or minus 3 percentage points.
The only good news for the GOP this year, according to Holland, is that each time the approval drop happened in the past, an unpopular incumbent was running for re-election.
This year, the unpopular incumbent -- President Bush -- is term-limited and will not be on the ballot in the fall.
(The all-time low was set in May 1980, when 21 percent said things were going well in the country and 79 percent said things were going badly.)
"The low approval rating for Democratic leaders in Congress is not likely to put the party's control of Congress in jeopardy," Holland said. "There is no indication in any poll taken by any organization that voters want to see the GOP regain control of Congress and all 'generic ballot' questions show a wide lead for Democratic congressional candidates."
That may be a reason presumed Republican presidential nominee Sen. John McCain and probable Democratic nominee Sen. Barack Obama are in a virtual tie in two battleground states, according to Quinnipiac polls out Thursday.
The two are statistically tied in Florida and Ohio. Obama holds a clear advantage in Pennsylvania.
But in what could be a warning sign for Obama as voters begin to turn their attention to the general election campaign, Obama's lead appears to have dwindled, or barely remained steady, in all three states even as he has enjoyed a wave of intense media coverage surrounding his trip abroad. CNN Election Center: View the latest state polls
In Florida, Obama holds a statistically insignificant 2-point lead over McCain, 46 percent to 44 percent. In a similar poll taken one month ago, Obama held a wider and statistically significant 47 percent to 43 percent advantage over the Arizona senator there.
The difference appears to be a shift among independent voters, who now support McCain in Florida by a 5-point margin. In the June poll, Obama held the advantage among the same group of voters by a 10-point advantage. CNN's Electoral Map: Check out the lay of the land
In Ohio, the battleground state where a weak economy should give Democrats an advantage, Obama is ahead by 2 points, 46 percent to 44 percent. That lead, also statistically insignificant, is down from the 6-point advantage the Illinois senator held there one month ago.
Obama's lead has also narrowed in Pennsylvania, though he still enjoys a clear edge there. Obama leads McCain by 7 points, 49 percent to 42 percent, down from the 11-point advantage he had in June.
E-mail to a friend

CNN polling director Keating Holland and political producer Alexander Mooney contributed to this report.
All About George W. Bush • U.S. Congress