From Elaine Quijano
CNN White House Correspondent

WASHINGTON (CNN) -- President Bush left the White House on Monday for a weeklong tour of Asia that will be his ninth visit there as president. The trip will take him to South Korea, Thailand and China.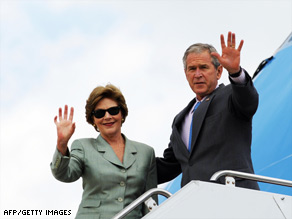 President Bush and first lady Laura Bush board Air Force One on Monday to begin a trip to Asia.
His first stop will be in South Korea's capital, Seoul, where just months ago violent street protests erupted over worries about the safety of U.S. beef imports.
While those tensions seem to have eased, the U.S. nuclear disarmament deal with North Korea is also a concern.
Michael Green, a former Bush adviser on Asian affairs now with the Center for Strategic and International Studies, said Seoul's proximity to North Korea contributes to an ongoing unease.
"The North Koreans have 11,000 artillery tubes and rockets aimed at the South Korean capital, so any little thing that we do with North Korea makes the South Koreans very jittery," Green said.
"On the other hand, the U.S. has to worry a great deal about where terrorists might get nuclear weapons or nuclear material."
After South Korea, the president will go to Thailand for what's being billed as a major Asia policy speech. He's expected to denounce the military regime in neighboring Myanmar -- also known as Burma -- for its human rights abuses.
First lady Laura Bush has fervently taken up the cause, sharply criticizing the regime for its response to a May cyclone that killed tens of thousands of people.

See a map of President Bush's itinerary »
"The more I've seen, the more critical I see the need is ... for the world to pay attention to the people of Burma, and for the world to put pressure on the military regime," Mrs. Bush said at a historic news conference in May in the White House briefing room -- the first ever by a first lady.
The president will continue his Asia tour with a visit to Beijing, China, to attend the 2008 Olympics, a decision some have criticized, saying his presence gives China a pass on its poor record on human rights and religious freedom.
Most Americans approve of Bush's decision to attend the Olympics, according to the latest CNN/Opinion Research Corp. poll.
More than 63 percent of those surveyed think Bush should attend the opening ceremonies, while 35 percent think he should not, according to the poll.
The poll was conducted July 27-29 and was based on telephone interviews of 1,041 Americans. It has a sampling error of plus or minus 3 percentage points.
Last week, Bush defended his decision to attend in an interview with China's state-run television network. "I think it's best for U.S.-China's relations that I go. I know it's important for me to send a clear signal to the Chinese people that we respect them," he said.
Bush plans to attend a church service in Beijing to deliver what is sure to be a carefully crafted message.
"He will have to say something public which is always tricky, how much he spotlights these issues," Green said. "And I think he will not [do it] in an adversarial way."
Last week, the president welcomed five Chinese dissidents to the White House, telling them he would carry a "message of freedom" to Beijing. The move drew a sharp rebuke from Chinese leaders, who accused the president of interfering in their country's internal affairs.
E-mail to a friend

All About George W. Bush • South Korea • Thailand • China