(CNN) -- While Alaska Gov. Sarah Palin basked Friday in the prospect that she might become the nation's first female vice president, an investigation into her was under way at home.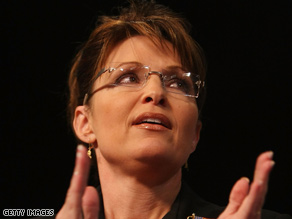 Gov. Sarah Palin's office is being investigated over the firing of her brother-in-law.
Republican John McCain introduced Palin in Dayton, Ohio, as his running mate for the November election. She described herself as a bipartisan reformer and a fighter against corruption.
In Alaska, meanwhile, questions over whether she or an aide broke ethical or personnel rules in firing the state's public safety commissioner have led to an investigation that is expected to last several months.
The state Legislative Council voted in July to spend $100,000 on the investigation, and hired Steve Branchflower, a retired assistant district attorney, as special counsel to lead it.
The commissioner, Walt Monegan, a gubernatorial appointee, said after he was let go in July that he felt pressured by the governor's office to fire Palin's ex-brother-in-law, Mike Wooten, a state trooper who had been locked in a messy divorce and child-custody battle with Palin's sister.
Palin denied wrongdoing and said she would cooperate in the investigation.
Don't Miss
In a March 1, 2006, disciplinary report, Col. Julia Grimes, who oversees state troopers, called Wooten's conduct "unacceptable," and accused him of a "lapse in proper judgment," before suspending him for a series of conduct and ethics violations between December 2001 and November 2005.
In one violation, Wooten used a Taser against his 10-year-old stepson.
In explaining Monegan's termination, Palin said she wanted to take the Alaska Department of Public Safety in a "different, more energetic direction," according to the Anchorage Daily News.
But in announcing Branchflower's appointment, Legislative Council Chairman Kim Elton said, "Alaskans are calling for a complete and fair investigation into why Walt Monegan was fired and if it had anything to do with Trooper Mike Wooten."
Earlier this month, Palin revealed a phone call made by her boards and commissions director, Frank Bailey, to a trooper lieutenant. In the call, Bailey complained about Wooten and said the Palin family didn't know he still had a job. Palin placed Bailey on paid leave until the investigation is over.
E-mail to a friend

All About Sarah Palin • Alaska