By Emanuella Grinberg
CNN

WASILLA, Alaska (CNN) -- Sarah Palin's neighbors saluted their hometown girl with Alaskan Amber brew and testaments to her small-town integrity as she accepted the Republican nomination for vice president Wednesday.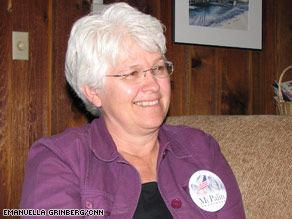 Marie Lambing, sporting a "McPalin" button, considers herself a friend of the VP candidate.
At Tailgaters Sports Bar and Grill on Parks Highway, Palin supporters tried on "Palin and McCain" T-shirts and ate buffalo wings as they discussed the attributes that they said made Palin, the governor of Alaska and former Wasilla mayor, the ideal candidate for vice president.
"She's a regular, hard-working individual with integrity, honesty to her credit. That doesn't make her unique, but it makes her qualified," said Martin Buser, four-time winner of the Iditarod dog sled race and longtime Wasilla resident.
"She's just honest; she has good intentions in everything she does," Buser said as he sipped on a rum and Coke in the bar, crowded for Palin's speech, which started about 6:30 p.m. Alaska time. "I know, because I've lived with her in the community the last 29 years. Here we judge people by what they do."
Buser's wife, Kathy Chopoton, said they came to watch Palin at Tailgaters to show their support in a way that would make Palin proud.

Watch Alaskans react as Palin makes historic speech »
Don't Miss
"People love her in the community because they know that she loves us," Chopoton said, grasping her glass of Alaskan Amber. "This is exactly the kind of event she would show up for." iReport.com: Palin puts Alaska on map
Palin's supporters, most of whom casually refer to her as Sarah, as if she were an old friend, like to recall how she visited nearly every home in Wasilla during her mayoral campaign to ask constituents what issues mattered to them.
She is recognized for getting a lot done during a relatively short political career in Wasilla, where she is known as the daughter of Chuck and Sally Heath, a star point guard on the 1982 championship high school basketball team and a beauty queen before she became a political upshot. She served two terms as a Wasilla city council member before ousting an incumbent mayor on a platform of bringing change to the community.
Many credit her with bringing paved roads, a developed sewage system and a major sports complex to Wasilla while managing to raise four children and remain active in the community. iReport.com: Show your love, Alaska
Palin's legend grew as former Gov. Frank Murkowski appointed her to the Alaska Oil and Gas Conservation Commission, only to have her resign after she leveled corruption allegations against the state Republican chair Randy Ruedrich, who was also on the board. Three years later, she defeated Murkowski and became the state's first female governor.
"She resigned that position and she won the respect of people around the state, because she gave up a lucrative position because of her high moral standards," said Tom Carpenter, who stopped into Tailgaters to catch the speech on his way out to go sheep hunting. iReport.com: "Best governor we've ever had"
In an effort to explain her popularity, Carpenter turned behind him and nodded to the tables crowded with pitchers of beer and Palin memorabilia.
"There's no one sitting here in a suit. These are normal everyday people and that's really what this country is made up of. That's who she is and that's why people appreciate her," he said.
Down Parks Highway off Easy Street, friends of Marie and Fred Lambing gathered in the couple's home to watch the speech.
The group, a cross-section of transplants, many of whom settled in Alaska years ago to raise families and start new lives, watched quietly at first as Palin thanked friends, family and her party.
But as Palin's speech turned to her Alaskan roots, the group began clapping and cheering along with the crowd at the Xcel Energy Center in St. Paul, Minnesota.

Watch Palin talk of Alaska experience »
"Know the difference between hockey moms and pit bulls? Lipstick," Palin said, provoking laughter in Lambing living room.
Palin's attacks on the Obama-Biden ticket also earned high marks with the viewers, a self-described group of independent thinkers who favor less government interference.
"What you see on that podium is what you get in the office," said Fred Lambing, a retired master sergeant for the Alaska National Guard who worked with Palin when she was mayor.
"She coulda softened it down, but now that she's thrown down the gauntlet she's let them know that she is commander-in-chief and she's not afraid," he said. "We're seeing Sarah again. She's ready to play."
Like most in Wasilla, the Lambings and their guests consider themselves friends or acquaintances of the governor and her husband, Todd. They said her approachability is one of her greatest assets.

Watch Palin's best friend describe her »
"When I see her on TV and see her talking, for some reason I connect with her," said Jen Morris, a sign-language interpreter who's the only person in the group born and raised in Wasilla.
"For me, she is someone from my community, someone who's always been around. She's a mom, she's someone with a family, a community under her, not just money and connections."
Munching on cheese and crackers and salmon dip, the guests also applauded Palin as she described her support of drilling for oil and the construction of gas pipelines in northern Alaska.
"We have a lot to offer to the lower 48, but we're not sure if we want to," Wes Keller joked. "But really, it's about creating jobs and energy up here and across the country."
Palin's success in her first term as governor in finalizing plans for a gas line in the North Slope is another benchmark her supporters say represents her ability to work across party lines.
But it's the humility with which she carries herself that makes her all the more appealing, Keller said, referring to a comment in Palin's speech when she said she had a servant's heart.
"I know her just enough to know she's into this to see what positive difference she can make," he said. "She has a servant's attitude, she's not arrogant and she's not full of herself."
E-mail to a friend

All About Sarah Palin • Alaska