By Rebecca Sinderbrand
CNN Political Unit
ST. PAUL, Minnesota (CNN) -- For the second consecutive night, a lot of the rhetoric at the Republican convention Wednesday evening seemed left over from the last cycle when the fight against terrorism dominated the race.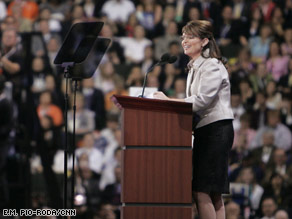 Sarah Palin ripped Barack Obama and said she's ready for the "challenge of a tough fight."
The biggest voter concern and the theme of the evening was the economy. But did it top the agenda Wednesday night? No. The policy prescriptions were minimal; the party-issued signs proclaiming "prosperity" made for a jarring sight.
The language and terror focus were left over from 2004. The evening's tone was vintage 1992, with just a hint of culture war.
Surveys suggest Democrats hold the advantage on the dominant issue this year, so Republicans looked to redirect the anger with base-pleasing swipes at the media and liberal elites.
Former primary season rivals Mitt Romney and Rudy Giuliani set the evening's tone with sarcastic broadsides that brought the crowd to life. Sarah Palin followed suit, her scorn layered under a sunny smile and small-town demeanor.
After a week of enduring tough headlines and dodging the spotlight, the Alaska governor re-emerged and delivered a speech that thrilled the crowd. Palin also proved she inherited President Bush's gift for sprinkling speeches with Biblical references -- like her claim of a "servant's heart" -- that won't register with much of the population, but resonate deeply with evangelicals.
Her adoption of the evening's bitter tone may have fallen a bit flat. A focus group of white married women who watched the speech didn't care for her sarcasm. iReport.com: One liners, jokes, and personal attacks
Don't Miss
But these same voters found her impressive and authentic. They wanted to know more about her personally. And McCain senior adviser Carly Fiorina, who has been at the forefront of outreach efforts to former Hillary Clinton voters, can claim some success. More than one woman in the focus group said Palin reminded them of the New York senator. Read what CNN analysts say about Palin's speech
The top targets of the night were Barack and Michelle Obama, the news media, and the Democratic Congress. The party's "outsider" language might have struck a dissonant chord. This is, after all, the party that has controlled the White House for the past eight years and Congress for 12 of the past 14.
But despite that, the GOP seemed to struggle with its identity.
Thus far, praise of Bill Clinton, a VP family connection to the Steelworkers Union, and attacks on Wall Street have all drawn cheers. President Bush's appearance was barely longer than a commercial break -- beyond that, his name has been mentioned in prime time fewer than half a dozen times.
And on the night the party nominated its vice presidential hopeful, the man who currently holds the job didn't rate a reference.
E-mail to a friend

All About Sarah Palin • John McCain