By Brianna Keilar

CNN
WASHINGTON (CNN) -- The White House on Monday firmly rejected new allegations that President Bush ignored commanders in Iraq and top military advisers in Washington when he decided to send more troops to Iraq in 2007.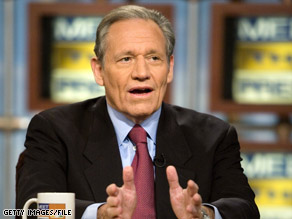 Bob Woodward's book, "The War Within: Secret White House History 2006-2008," came out Monday.
The claim appears in a new book by top Washington journalist Bob Woodward who has written a series of books about the Bush presidency.
"I don't necessarily think that the conclusions are supported by a lot of the facts in the book," White House Press Secretary Dana Perino said shortly after the book went on sale Monday.
In "The War Within: Secret White House History 2006-2008," Woodward, the associate editor of the Washington Post, asserts the White House forced what became known as the "surge" strategy on military commanders and on the president's principal military advisers, the Joint Chiefs of Staff.
Bush said in January of last year that he was deploying 30,000 more U.S. troops to Iraq at the request of military commanders in Iraq.
Woodward reports the Joint Chiefs had not recommended a troop increase, and were worried U.S. troops were over-extended.
They instead wanted to focus more effort on training Iraqi security forces so U.S. troops could start to head home, according to Woodward. When approached with the White House's plan to deploy five more combat brigades, Woodward says, the chiefs and colonels thought it was overly ambitious -- but could not sway the president.
The White House took issue with the characterization of an internal struggle between President Bush and his military advisers.
"I can't imagine that anybody in Washington would be shocked that if you bring people together to talk about one of the most difficult problems in our time, that they might have a disagreement over what might be the best option. In fact we should all want that to happen," Perino said.
She touted the surge as successful in reducing violence in Iraq. "Sometimes in Washington when you can't attack the results of something you attack a process," Perino added.
The White House first responded to Woodward's book on Friday, before it was released, batting down the claims in the book that the United States spied on top Iraqi officials and that President Bush was disengaged from Iraq strategy decisions, deferring to the judgment of his national security adviser, Stephen Hadley.
Woodward, who won two Pulitzer Prizes for his coverage of Watergate and the September 11, 2001, attacks, conducted two on-the-record interviews with Bush for the book in May.
E-mail to a friend

All About George W. Bush • Iraq War • The White House