By John King
CNN Senior National Correspondent

PORTSMOUTH, Ohio (CNN) -- At the bustling Market Street Cafe, there is a good vibe for the Democrats: The half-dozen younger workers in the kitchen are all for Sen. Barack Obama and excited about voting come November.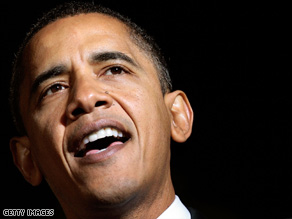 Sen. Barack Obama is looking to win the battleground state of Ohio.
Yet older Democrats like Steve Sturgill seem to be bracing for disappointment. Sturgill, who is an economic development official, says that even fellow Democrats tell him they have a hard time relating to Obama, and some keep asking whether he is a Muslim or associates with radicals.
"I have that question all the time. People that I talk to in our community still have reservations about that," Sturgill said in a lunch-hour conversation. "There is no doubt in my mind Sen. Obama is not a Muslim. He is not a left-wing crazy."
It should be a Democratic year; the party generally benefits when times are tough. And in southeast Ohio, the official unemployment rate is near 7 percent. Sturgill says many have just given up looking for jobs, and he believes that the unofficial jobless rate is closer to 20 percent.
The Scioto County Democratic headquarters is buzzing with activity, with several volunteers working the phones, looking to win over new votes. It is a sign of Democratic intensity in the state, but the scene is also telling of the hurdles Obama faces trying to make inroads here.

Watch as Obama campaigns through swing states »
An office worker felt compelled to attach a shiny flag pin to the lapel of a cardboard cutout of Obama that is perched in the center of the office.
Don't Miss
And although the economy is by far the biggest issue here, the literature spread out on the table at Democratic headquarters includes fliers designed to answers concerns of gun owners and a thick stack of papers that try to rebut persistent rumors Obama is a Muslim, took his Senate oath on a Quran, won't put his hand over his heart when saying the Pledge of Allegiance or won't wear a flag pin on his lapel.
Local Democratic Chairman Randy Bashem says some of those reached by the phone banks say they simply aren't ready, or willing, to vote for a black man.
"It basically comes down to that," Bashem said. "Appalachia is probably the hardest place in the state of Ohio, because the population of the black vote here in southern Ohio is probably 2 percent."
Obama was trounced here in the Democratic primaries; Sen. Hillary Clinton won 81 percent of the vote in Scioto County. Top Democratic strategists say Obama has yet to fix things in order to get Ohio's 20 Electoral College votes.

Watch more on the Electoral College vote race »
"In the primary, he didn't connect. He needs to be able to connect to these small town and rural voters," veteran Democratic strategist Peter Hart said. "And they are all throughout southern Ohio."
Recent history suggests that winning southeast Ohio equals winning the White House. Democrats have carried the region just three times in the past 10 presidential elections: in 1976, 1992 and 1996. Those happen to be the only three times the Democrats have carried Ohio, and won the White House, in the past 40 years.
Market Street Cafe co-owner Mary Rase, a loyal Republican, sees a giant generational divide.
"I think people my age seem to be for McCain, but I feel overall that there is more Obama people," Rase said.
Jean Carlson was a Goldwater Republican but is now an Obama Democrat. She says that even friends have asked about the flag pin rumors, and in the persistent questions about Obama's faith, Carlson sees a thinly veiled racism.
"I think it is an undercurrent," Carlson said. "I think it is sad, but I think it is still an undercurrent here."
E-mail to a friend

All About John McCain • Barack Obama • Democratic Party