By Rachel Streitfeld
CNN

(CNN) -- Sen. Joe Biden faces a paradox: He offers the most unfiltered contact with the media of any of the big four. But he's the least likely to be covered.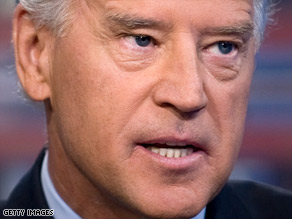 Sen. Joe Biden credits his mother with teaching him to stand up for the little guy.
Over the three weeks since Sen. Barack Obama tapped Biden to be his running mate, Biden has seen coverage of his campaign slip from feverish to low-key.
The night before Obama announced his vice presidential choice August 23, the press staked out Biden's Delaware home and gave minute-by-minute updates of his every movement.
But then Sen. John McCain picked telegenic and nationally unknown Alaska Gov. Sarah Palin as his running mate, and the press corps traveling with Biden's campaign dwindled to a skeleton crew.
An index released by the LexisNexis Analytics 2008 election dashboard showed Palin received nine times the media coverage that her counterpart did during the first week of September, which included the Republican National Convention.

Watch analysts weigh in on Biden vs. Palin »
On Wednesday, Palin's staff told the press corps traveling with the governor her plane had become too heavy, and asked for volunteers to fly commercial.
There's plenty of room on Biden's plane. At one point this week, only six reporters climbed aboard. But they got one thing the press traveling with Palin didn't: access to the candidate.
Biden ambled back to talk with the press corps a few times a week. And these were not sound bites -- at one point, the notoriously talkative senator gave a 13-minute, 20-second response to a reporter's question on the situation in Iraq.

Watch a preview of CNN's special report on Joe Biden »
While reporters covering Palin complained the candidate was endlessly sequestered with aides, the Biden press corps had more quotes than could possibly be reported. And most of them weren't.
The bigger story was the new face, Palin, who helped McCain draw crowds of 20,000-plus while Biden took questions at community centers, union halls and high school gyms.
Journalists descended on Alaska to cover Palin's first visit home since being tapped. CNN covered her arrival live.
Meanwhile, a week earlier, Biden gave the press corps the slip and sneaked off to the law school class he's been teaching in Wilmington, Delaware, for more than a decade. One camera and two producers watched him drive by, waving, in his motorcade after the class.
In fact, the only surefire way Biden can make the news is to go directly after Palin -- something he usually refuses to do. Instead, Biden peppers his stump speech with folksy sayings and anecdotes from the Biden clan.
"As my pop used to say," he tells audiences daily, "it's not how many times you get knocked down. It's how quickly you get back up."
He's got two months to do that.
E-mail to a friend

All About Joseph Biden • U.S. Presidential Election • Sarah Palin