WASHINGTON (CNN) -- Pakistan's newly elected president, Asif Ali Zardari, will meet with President Bush next week on the sidelines of the U.N. General Assembly, the White House announced Thursday.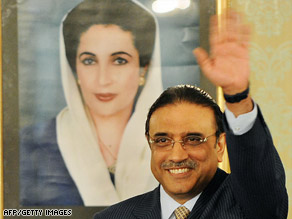 Pakistani President Asif Ali Zardari waves in front of a portrait of his wife, the late Benazir Bhutto.
"The two leaders will discuss efforts to strengthen the bilateral relationship and build a long-term partnership based on common values," said Bush spokeswoman Dana Perino.
Zardari is the widower of former Prime Minister Benazir Bhutto, who was assassinated last year. He was sworn in as Pakistan's president earlier this month after his predecessor, U.S. ally Pervez Musharraf, resigned following nine years of rule.
Tuesday's meeting in New York will come amid tensions between the two countries over the battle against Taliban and al Qaeda remnants in Pakistan's tribal region, which borders Afghanistan.
The U.S. military sent ground forces into South Waziristan earlier this month without Islamabad's permission. The attack followed an order by President Bush earlier this year authorizing U.S. special forces to carry out ground assaults inside Pakistan without seeking Islamabad's permission.
The Pakistani government responded harshly to the incursion. Last week Pakistan's military chief, Gen. Parvez Kayani, announced that no foreign forces will be allowed to conduct operations inside Pakistan in light of the "reckless" U.S. military ground operation.
Kayani said Pakistan's "territorial integrity ... will be defended at all cost and no external force is allowed to conduct operations ... inside Pakistan."
Don't Miss
On Wednesday, Kayani and Pakistan's newly elected prime minister, Yousaf Raza Gilani, met the United States' top military officer, Adm. Michael Mullen, in Islamabad. The U.S. Embassy in Pakistan described the talks as "extremely frank, positive and constructive."
Hours after Mullen left, unmanned drones fired missiles into a Pakistani village along the Afghan border. A Pakistani intelligence official and eyewitnesses said the strike killed seven residents and wounded three.
The United States is the only country operating in the region known to have the capability to launch missiles from drones, which are operated remotely. In keeping with its policy, the CIA would not comment on Wednesday's strike.
The United States maintains that Taliban and al Qaeda forces operate with relative impunity in tribal areas along Pakistan's border with Afghanistan and use those areas as a staging ground to attack U.S. forces and their allies inside Afghanistan.
E-mail to a friend

All About Pakistan • Al Qaeda • The Taliban