(CNN) -- Sens. Barack Obama and John McCain are virtually tied in some of the key battleground states that could decide the presidential election.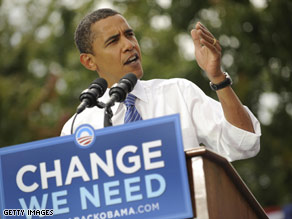 Sen. Barack Obama leads in the national polls.
With six weeks until Election Day, and just days before the first debates, the two candidates are running tight races in Florida, Ohio and Missouri, according to polls released Sunday.
McCain holds a razor-thin one-point lead in Florida, ahead of Obama 47-46 percent, according to CNN's poll of polls.
The Republican presidential nominee held a healthier margin there for most of the summer, but Obama has aggressively targeted Sunshine State voters on the airwaves, topping McCain by a margin of more than eight to one when it comes to ad spending.
Florida has 27 electoral votes at stake.

See CNN's electoral map »
McCain also leads by a one-point margin in Ohio, up 47-46 percent. No Republican has won the White House without winning Ohio, which has 20 electoral votes at stake.
The Ohio poll of polls consists of three surveys: Big Ten Battleground (September 14-17), CNN/Time/ORC (September 14-16), and Ohio Newspaper Poll/University of Cincinnati (September 12-16).
The Florida poll of polls consists of four surveys: ARG (September 14-17), CNN/Time/ORC (September 14-16), Research 2000 (September 15-18), and Miami Herald/St. Petersburg Times/Bay News 9 (September 14-17).
In Missouri, a battleground with 11 electoral votes up for grabs, McCain leads Obama by four points, 49-45 percent, according to a Research 2000 poll out of released Sunday.
Don't Miss
Missouri has voted for the eventual winner in all but one presidential election since 1904. Missourians chose President Bush over John Kerry by a six-point margin in 2004 and picked Bush over Al Gore by a four-point margin in 2000.
The Research 2000 poll, which carries a sampling error of plus or minus 3.5 percentage points, also shows 6 percent remain undecided in Missouri.
Obama maintains his lead in CNN's national poll of polls. According to the latest poll of polls, released Friday, Obama is ahead of McCain by three percentage points -- 47-44.
The poll of polls consists of three surveys: Gallup (September 16-18), Diageo/Hotline (September 16-18), and Big Ten Battleground (September 14-17).
With recent polls showing about 10 percent of voters still undecided, the debates could prove critical in deciding the election, according to Paul Steinhauser, CNN's deputy political editor.
"These debates ... they could be crucial in these undecided Americans making up their minds. And those undecided Americans are the ones who are basically going to sway the election and move it one way or the other," he said.
Obama and McCain have just a few days to campaign before they face off in their first presidential debate on Friday.
The debate, which takes place in Oxford, Mississippi, will focus on foreign policy.

Watch more on the first debate »
Obama will be prepping this week in Tampa, Florida, his campaign said.
Greg Craig, a former State Department official under President Clinton and a longtime Obama supporter is reportedly playing the role of McCain in the Illinois senator's debate practices.
A source inside the McCain campaign says the Arizona senator has been prepping on the campaign trail for the past several weeks and took time Saturday to prepare. The source says as of now, McCain is not expected to take days off before Friday's debate to prep.
The vice presidential candidates will face off on October 2 in St. Louis, Missouri.
Bill Schneider, CNN's senior political analyst, said while the debates are important, winning a debate does not mean winning an election.
"Debates are like a restart button in the campaign. That's where viewers say, wait a minute, I don't have to make up my mind until I see them both in an equal footing in an unscripted situation," he said.
"But you know what's interesting? In 2004, John Kerry won every debate against George Bush. Every single one we polled after each debate. People thought Kerry was the better debater. But winning the debate does not give you the prize of being elected president."
E-mail to a friend

CNN's Alexander Mooney and Mary Snow contributed to this report.
All About Barack Obama • John McCain