THE VILLAGES, Florida (CNN) -- As the stock market goes through stomach-turning ups and downs, Sen. Barack Obama is accusing Sen. John McCain of wanting to "gamble with Social Security," a charge the Republican presidential nominee rejects as fear mongering.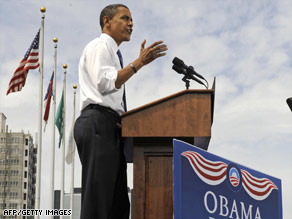 Sen. Barack Obama campaigns in Charlotte, North Carolina, on Sunday.
McCain is promoting a plan that would divert a portion of payroll taxes taken from workers' paychecks into personal savings accounts that would be invested in the stock market. McCain says the accounts are necessary because if no changes are made to the traditional Social Security system, it won't be able to pay all of the benefits promised to baby boomers.
Obama made the accusation Saturday during a speech in Daytona, Florida.
"If my opponent had his way, the millions of Floridians who rely on it would have had their Social Security tied up in the stock market this week ... millions would've watched as the market tumbled and their nest egg disappeared before their eyes," the Democratic presidential nominee said.
The charge, however, is misleading, and the McCain camp said that Obama is only trying to scare seniors in Florida, a critical battleground state.

Watch Obama attack McCain's Social Security plan »
The Arizona senator is advocating personal savings accounts only for those born after 1950, meaning that the benefits seniors are now receiving from the Social Security system would not be affected, and that even if personal savings accounts were currently in place for individuals, it is unlikely that their nest eggs would disappear. Fact Check: Obama's Social Security charge
Don't Miss
McCain also points out that his plan would supplement, not replace, the traditional Social Security program, which is expected to pay benefits to nearly 80 million Americans over the next two decades.
"You have to go to the American people and say we won't raise your taxes. We need personal savings accounts, but we've got to fix this system," McCain said.
But Democrats argue that diverting any portion of payroll taxes that support Social Security into the stock market would undermine a system that, they say, is the sole support retirees can count on as companies cut back or eliminate pensions and the stock market experiences turbulence.
According to his Web site, Obama would help Social Security stay solvent by increasing the payroll tax by 2 to 4 percent for those making over $250,000.
"President Bush and John McCain have been pushing privatization for eight years -- not a joke. John still pushes it," Sen. Joe Biden, the Democratic vice presidential nominee, said Saturday during a campaign stop in Castlewood, Virginia. "Here's what I want to ask you to think about when you're deciding who to vote for: Imagine if your mother or father's Social Security were invested in the stock market."

Watch Obama's ad tying McCain to Bush »
With the race so tight -- particularly in Florida -- and economic worries weighing heavily on voters, one McCain supporter suggested that the Republican nominee not push his contentious plan to supplement Social Security with private savings accounts.
"I don't think he's going to go through with it, cause he knows a lot of us are against it. I believe that, anyhow," said Toni Maggiore, the supporter.
E-mail to a friend

CNN's Josh Levs contributed to this report.
All About Security Software • Barack Obama • John McCain