From Abbie Boudreau and Scott Bronstein
CNN Special Investigations Unit

KETCHIKAN, Alaska (CNN) -- The "Bridge to Nowhere" may have been shelved. But the "Road to Nowhere" is alive and well.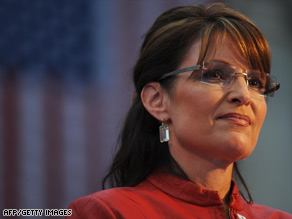 Gov. Sarah Palin let the "Road to Nowhere" go ahead because the contract had been signed.
The proposed $400 million span that would have connected the coastal city of Ketchikan to its airport on Gravina Island died after it became a symbol of congressional excess.
But the three-mile access road that was built on the island is ready for residents to take a drive to nowhere. It was paid for by some of the $223 million in federal funding that sparked ridicule among opponents of congressional "pork-barrel" spending.
In stump speeches, Alaska Gov. Sarah Palin has touted her eventual decision to abandon the Gravina Island bridge, which she initially supported. But Palin, now the Republican vice presidential candidate, let the access road go ahead because the contract to build it had been signed, a campaign aide said. iReport.com: Are you in a battleground state? Share your stories
Ketchikan Mayor Bob Weinstein calls the road, which was paid for by federal tax dollars, a waste of money that could have been used to fix his city's roads and sidewalks.
"Gov. Palin could have stopped construction of this road," said Weinstein, who wore his "Nowhere, Alaska" T-shirt to an interview with CNN.

Watch where road ends »
The island is connected to the city by a ferry that runs to the airport, well past the point where the bridge was to have been built. But some locals said they'll find some way to use the road, such as running or bicycle riding.
"It'd be nice to see them put something over here now they have a road: park, picnic benches, something to get people out here," said P.J. Murphy, who works on the island. "I mean, it's pretty here." Read Abbie Boudreau's "backstory" blog on "Road to nowhere"
Campaign spokeswoman Meg Stapleton said Palin would not have allowed the road project to go forward under normal circumstances. But the deal had been signed just before she took office in December 2006, Stapleton said.
"The governor was left no viable alternative," Stapleton said.
For the first two weeks of her campaign, Palin routinely told audiences in her stump speech that she told Congress "thanks, but no thanks" for the bridge, which was backed by the leaders of Alaska's congressional delegation. But Weinstein, a Democrat, said Palin instead spent $26 million to build a road "that will not go to a bridge."
Palin has been heavily criticized for repeating the stock line about killing the "Bridge to Nowhere" without noting that she supported the project as a candidate for governor.
She has dropped the line from her stump speech in the past week, but a McCain-Palin aide said that her prepared remarks are being tweaked as needed to reflect current events, and it could come back again.
E-mail to a friend

All About Sarah Palin • Alaska • U.S. Presidential Election