By Gloria Borger
CNN Senior Political Analyst

(CNN) -- Here we are, at a time of national crisis, a moment when Americans feel truly besieged, wondering when and whether they will be able to retire or send their kids to college.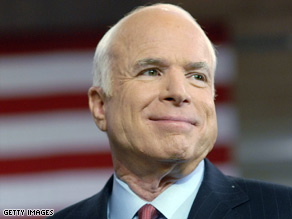 Political analysts say Sen. John McCain needs to lay out a comprehensive economic plan in order to win.
Coincidentally, it's also time to elect a president.
So in this race, the questions about leadership in a crisis are, for once, not theoretical. Candidates aren't just opining about leadership; they're supposed to show that they can lead. In real time.
Yet if viewers tuned in to the second presidential debate to see some evidence of that, what they mostly saw was two caged contenders.
Both Sens. Barack Obama and John McCain were restrained by silly rules designed to crush any legitimate exchanges between the two men (no doubt lawyered to death by their own campaigns and approved by the archaic Presidential Debate Commission). No direct exchanges. No real conversation. Oh, unless, of course, you consider "one-minute" discussion periods anything but an oxymoron.
Hey, this is a really important election. Why not actually allow interaction between the two men who want to lead the free world?

Watch voters rate the debate »
But if you're judging what we did see, it was a truly aggressive Obama. He never missed an opportunity to take on his opponent (in a substantive way) or to respond to a charge (about, say, whether he will raise your taxes).
Don't Miss
As for McCain, he was full of moments missed. When asked about "sacrifice," for instance, he could have hit it out of the park with his usual (and very affecting) answers about national service, about "a cause greater than yourself," et al. Instead, what did we get? Earmarks! Get rid of earmarks!
It's beginning to sound a lot like the chant to get rid of "waste, fraud and abuse" from the Reagan years. Here's the problem: Good idea, but not enough. Not in this economy. This crisis calls for bigger ideas, not tiny ones. And earmarks -- worth about $18 billion -- are small, given the $700 billion financial bailout. It's Tuesday's punch line.
To give McCain some credit, he did try, at least, to come up with a new idea: a plan authorizing the Treasury to buy up the mortgages of bankruptcy-bound homeowners and replace them with loans they can afford.

Watch memorable moments from the debate »
The Obama camp immediately pointed out that, in fact, the plan signed by the president last week gives the Treasury permission to do that. They were right, to a point: McCain's plan is more specific.
It's also really expensive, with a price tag of about $300 billion. So it kinda makes McCain's arguments against Obama that he's a big-spending liberal ("He's proposed $860 billion in new spending") look a tad hollow. And GOP fiscal conservatives were probably lining up to lambaste McCain's idea the minute he proposed it.
Then there are the larger points: Going into this debate, there was a sense that McCain needed ye olde game-changer. His campaign (largely through his obliging running mate) has been all about downgrading Obama's character, with lines about him "palling around with terrorists" (aka William Ayers) or Gov. Sarah Palin's winks (real or imagined) about the Rev. Jeremiah Wright's strong ties to Obama's world view.

Watch more on whether the debate was a game changer »
And although we figured McCain would leave that nasty work to Palin, we thought he might have something else up his sleeve. He came sleeveless.
Sure, his dislike for Obama -- now known as "that one" thanks to McCain's inept attempt at humor(?) -- came though loud and clear. And he was strong on foreign policy. But as for changing the game as he continues to lag in the polls, it didn't happen.
Obama has made substantial gains since the first debate, and much of that is largely because of the financial crisis. Voters clearly want a change. But this debate only cemented his presidential persona. He's in the process of closing the deal with the American voters.
McCain has to figure out a new deal, and fast.
E-mail to a friend

All About John McCain • Barack Obama