APPLETON, Wisconsin (CNN) -- In the last two presidential elections, Wisconsin has been balanced on a knife point between the Democrats and Republicans, but now economic worries are beginning to tip the state toward Sen. Barack Obama.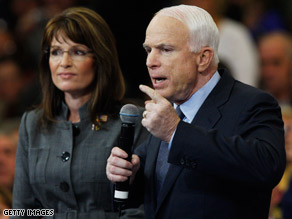 Sen. John McCain and Alaska Gov. Sarah Palin campaign in Waukesha, Wisconsin, on Thursday.
Former Vice President Al Gore and Sen. John Kerry -- the Democratic presidential nominees in 2000 and 2004, respectively - both won Wisconsin by the slimmest of margins (just more than 11,000 votes in 2004 and an even closer margin in 2000).
The tight margins have led both Obama and his Republican rival, Sen. John McCain, to target the state as a potential battleground.
McCain and his running mate, Alaska Gov. Sarah Palin, campaigned in Waukesha, Wisconsin, on Thursday, and Obama, the Democratic presidential nominee, campaigned in La Crosse, Wisconsin, on October 1.
Recent polling, however, shows that Obama has opened a definite, if small, advantage in the state. A CNN/TIME/Opinion Research Poll conducted October 3-6 shows Obama leading in Wisconsin 51 percent to 46 percent. The poll's margin of error was plus-or-minus 3.5 percent.
A Research 2000 poll conducted October 5-6 showed a 10 point lead for Obama - 51 percent to 41 percent. The poll's margin of error is plus-or-minus 4 percent.
Most political observers have put Wisconsin in the "leans Obama" column, but McCain dismissed those predictions when he spoke his supporters Thursday.
Don't Miss
"One small additional point, my friends. Do you know how many times the political pundits in the last two years have written off my campaign? Huh?" McCain asked. "They were wrong when I supported the surge and said I was finished; when I said I would rather lose a campaign than lose a war. And some of them are wrong now.
"We'll win, and we'll win the state of Wisconsin, and we'll win this election," he added.
Economic worries are the main difference between 2008 and the two previous election years.
Obama is expected to do well in the traditional Democratic strongholds of Milwaukee and Madison, the state's capital and home to the University of Wisconsin.
But he is also making inroads into the Fox River Valley, a traditionally conservative, Catholic, blue collar area that runs between Appleton and Green Bay in the northeast corner of the state.

Watch how Wisconsin swing voters see the election »
The valley had been a Republican stronghold for more than a century. (It elected Republican Sen. Joe McCarthy to the U.S. Senate in the late 1940s and 1950s.) But the area has lost thousands of industrial jobs and is now full of swing voters.
The hard economic times are pushing some life-long Republicans in the area to back the Democratic nominee, including Rick Hardrath, who used to work at a paper mill in Kimberly, Wisconsin, for 28 years until the mill closed last month. Six hundred workers lost their jobs as a result of the mill's closure.
Hardrath said he decided to vote for Obama because "the way the economy is" and "I think Obama just kinda explained himself better."
While the economy has given Obama an opening, he has not closed the deal. Ken Hoffman, a Fox Valley resident who voted for Bush in 2000, wants to hear more from the candidates before he decides who to support.

Watch bellwether voters in Ohio weigh in »
"I still think there is a lot of talk rather than answers. I want some answers," said Hoffman, a retiree who pays $8,000 for medicine each year. "What are they going to do with our taxes? What are they going to do with our healthcare? Our healthcare system is terrible. I want some answers!"
And not all valley residents are ready to back Obama. Ron Young, a small business owner in Kimberly, is attracted to McCain's tax proposals.
"We are a small business, and we are taxed to the limit," said Young, who owns a bakery. "We're looking to find someone that will help the small business. Right now it's looking like McCain and Palin is the way to go."
E-mail to a friend

CNN's Ed Lavandera and Scott J. Anderson contributed to this report.
All About Wisconsin • U.S. Presidential Election