(CNN) -- Sen. John McCain came out strong in Wednesday's final presidental debate, but Sen. Barack Obama ultimately came out ahead, according to several iReporters.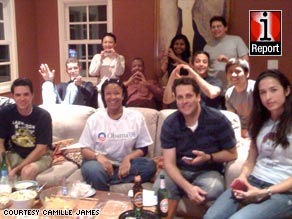 Obama supporters watch the final presidential debate Wednesday in Mountain View, California.
The third and final showdown between Republican candidate McCain and Democratic candidate Obama sparked impassioned and varied responses from iReporters across the country, but most were able to agree on one point: McCain delivered a strong performance during the beginning of the debate, but faltered as the evening progressed.
Frequent iReporter Jordan Sarver of Athens, Georgia, said that McCain was the clear winner for the first half-hour of the debate. "He was on the attack the entire time and, honestly, it scared me, because it worked" said Sarver, an Obama supporter.
"[McCain] was confident, he was precise and he rebutted everything that Barack Obama had to say," he added.
But Sarver, like many iReporters, said that the turning point in the debate took place when McCain insisted Obama explain his relationships with community organization ACORN and 1960s radical William Ayers.
"Once the topic of Bill Ayers came to the forefront, the game totally changed, the tide totally changed, and the night went to Obama," he said. Sarver said Obama distanced himself from Ayers and ACORN and "associated himself with people who are known and respected," making McCain's attacks "fall flat."
"McCain really had an opportunity here at the very beginning to take this debate and run with it and totally change the tide of this game. But he came off as crotchety and old and erratic, frankly." iReport.com: Watch Sarver discuss the debate
Obama supporter Jemier Jenkins echoed those thoughts. The St. Petersburg, Florida, resident was impressed with McCain's debate performance until Ayers was brought into the conversation.
"[McCain] was pretty much winning the debate up until that point," she said. "He started to seem very negative. ... People have gotten to a point that they don't want to hear that. I know that I don't want to hear it." iReport.com: Watch as an iReporter compares the debate to a boxing match
The response from iReporters mirrors the results of a CNN/Opinion Research Corp. poll conducted after the debate. Fifty-eight percent of debate watchers said that Obama performed better than McCain in the debate, and 31 percent said McCain did the better job.
Eighty percent of debate watchers polled said McCain spent more time attacking his opponent, while seven percent said Obama was more on the attack.
Democrat Matt Friedrichs of Orlando, Florida, called the past two presidential debates a tie, but said the final showdown produced a clear winner. "For the first time, I felt one candidate actually broke it down and explained in detail what he's going to do if he becomes president. And that man was Barack Obama."
Friedrichs said it seemed McCain "used negative tactics and blame" throughout the debate. "I don't think there was one question that McCain gave a straight answer to, but rather launched another attack against Barack Obama."
"Obama stepped up and proved to America that answering the questions instead of engaging in useless attacks is so much more efficient," he said. "McCain just looked angry and over-aggressive."
Independent voter Frederic Lumiere of Doylestown, Pennsylvania, said McCain is making mistakes similar to those of former Democratic presidential candidate Hillary Clinton. "He is so busy attacking Obama and not really diving into his plan. The American people see right through it."
"I think that overall McCain comes across as very self-righteous, angry and disrespectful to Obama," said Lumiere, who said he normally votes Republican. "That comes in complete contrast with Sen. Obama, who not only is respectful and polished, but comes across genuine and honest."
Many iReporters noted that while McCain seemed to lose his temper, Obama maintained his composure during the debate.
"Both of their emotions were palpable tonight," said frequent iReporter and Obama supporter Caroline of Fort Campbell, Kentucky. "John McCain's emotions I felt were really aggressive, there was this constant undertone of aggression and anger, whereas Barack Obama just seemed calm." iReport.com: 'I don't want an angry president'
"To me, John McCain looked frustrated and sometimes even looked angry when debating with Barack Obama," said Obama supporter Arturo Navarro of Chula Vista, California. "Obama always kept his composure and always kept his cool intact, even when John McCain tried to criticize him."
Ryan Basilio of Los Angeles, California, was discouraged by the overall negative tone of the debate.
"I realized that both candidates are big fat jerks," he said. "These are people that are so negative towards each other that they tried potshots, cheap tricks and use sound bites to make each other look stupid. And what ended up happening was they made themselves look stupid."
"How can people decide who the next president is going to be if all we have is bickering and arguing?" he asked in a video post on iReport.com. Basilio, a former volunteer for former Democratic candidate Bill Richardson, the governor of New Mexico, spoke with an Obama campaign poster in the background.
"The campaign has gotten so negative that I just feel sick, that I don't even want to vote anymore."
Basilio said he has an absentee ballot to vote in the presidential election.
E-mail to a friend

All About John McCain • Barack Obama