By Alexander Mooney
CNN

(CNN) -- Sen. John McCain likes to say he enjoys being the underdog. After all, this is the relentless candidate who somehow managed to capture his party's nomination after the political world left him for dead in the summer of 2007.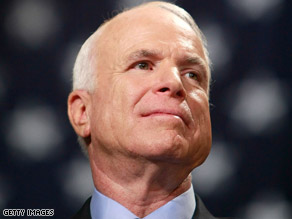 Sen. John McCain is trailing his Democratic opponent in CNN's latest polls.
But even as he spends the campaign homestretch reminding wary Republicans of his miraculous comeback last year, history suggests it may simply be too late.

Both publicly and privately of course, neither the candidates nor their aides are ready to say the race is over.
On Thursday morning, Sen. Barack Obama warned supporters not to get "cocky," while a few hours later McCain pledged to Pennsylvania voters he would erase Obama's lead by Election Day.
On Thursday, CNN's latest poll of polls showed McCain trailing Obama by 8 points nationwide -- a mid-October deficit that only one presidential hopeful has overcome to win the White House in the last 50 years.

Watch more on CNN's latest polls »
In the 1980 presidential election, former California Gov. Ronald Reagan trailed President Jimmy Carter by 8 points in a late October Gallup poll. A mere 10 days after that survey was conducted, Reagan defeated the incumbent president by nearly 3 percentage points, sealing one of the biggest turnarounds in the history of American presidential politics.
But if 2008 is at all like 1980, it's Obama who is Ronald Reagan, not McCain.
Don't Miss
Reagan was the relatively fresh face in the 1980 race, painstakingly portrayed by Democrats as ill-equipped for the Oval Office. That portrayal largely stuck, until Reagan and the unpopular President Carter faced off in a presidential debate only days before Election Day.
In that debate, the affable Reagan came off as the competent and polished candidate in the race, while Carter came off as off-balance, weak and even un-presidential. It was a devastating performance for an incumbent president already mired in low approval ratings.
"Reagan's performance in that debate convinced a lot of Americans that Reagan was an acceptable choice, and reminded them why they disliked Carter," CNN Polling Director Keating Holland said. "The fact that the debate came so close to the election meant that the Carter campaign had no time to blunt its effect on the voting public."
But McCain has run out of presidential debates in this election cycle and he, not his opponent, is the one tied to an unpopular president.

Watch an analysis of what McCain needs to do to win »
McCain is even facing demographic shifts similar to those that dogged Carter in 1980. Then it was working-class whites who abandoned Carter's party in droves; now many of those voters are coming back into the Democratic fold amid the nation's financial crisis.
Obama is also peeling off a significant amount of Hispanics and suburban women who voted for President Bush in 2000 and 2004.
"Carter's lead collapsed because of the political identifications shifts," John Hinshaw, associate professor of history at Lebanon Valley College in Annville, Pennsylvania, said.
"You had working-class whites who were beginning to defect and poor voters becoming dissatisfied with Carter. Reagan's debate performance crystallized that."
But 1980 isn't the only election year in modern history that a candidate has made up a large gap in opinion surveys during the race's final weeks.
In 1968, then-Vice President Hubert Humphrey looked all but dead in mid-October polls, many of which showed he trailed Republican Richard Nixon by 8-10 points. But the final outcome three weeks later was considerably closer, with Humphrey losing by less than a percentage point.
President Lyndon Johnson announcing a halt to bombing in North Vietnam days before Election Day appeared to contribute to the dramatic shift.
"Humphrey began to gain ground when he broke from President Johnson at the end of September and came out in favor of a unilateral halt to the bombing of North Vietnam," noted CNN Senior Political Researcher Alan Silverleib. "By the end of October, when LBJ announced a bombing halt, the momentum was definitely in Humphrey's favor. If that campaign had gone on for an extra week, it is conceivable the outcome would have been very different."
Other election years have seen candidates make up significant deficits -- though not as big the one McCain currently faces. President Gerald Ford was nearly able to erase the 6-point gap Carter held in mid-October of 1976 and then-Vice President Al Gore was ultimately successful in eliminating a 6-point deficit in 2000.
But polls show the country significantly more polarized than either of those election cycles, and many more Americans (92 percent according to one recent poll) feel the country is on the wrong track now than they did in either 1976 or 2000. McCain also faces a Democratic Party more energized than it has been in years and a historically high turnout among African-American voters in several key battleground states.
McCain is also dealing with the tough task of maintaining enthusiasm among his base and convincing undecided voters, many of whom don't want to feel as if they are voting for a losing candidate, that the race is not yet over.
"He's got to keep the base going," CNN Senior Political Correspondent Candy Crowley said, noting Republican Sen. Bob Dole faced a similar problem in the closing days of the 1996 election.
"In the last couple of weeks of the Dole campaign, they came up with a 96-hour tour -- just something to pump some energy in the race so you end it on a high regardless of how it turned out."
Dole, who faced a 12-point gap in mid-October polls, lost to President Bill Clinton by 9 points.
But amid a failing economy, a Republican Party brand in tatters, and a rival who has presented himself as an acceptable alternative, McCain's fate may ultimately be out of his hands.
"Unless there is something really dramatic that happens externally, like Osama bin Laden is brought home in chains, or there is some sort of really dramatic foreign crisis where Obama stumbles, it's not likely McCain can climb back," Hinshaw said.
E-mail to a friend

All About John McCain • Barack Obama