MANCHESTER, New Hampshire (CNN) -- Sen. Barack Obama's foreign policy positions could encourage America's enemies to test it during the early days of an Obama administration, Sen. John McCain said Wednesday.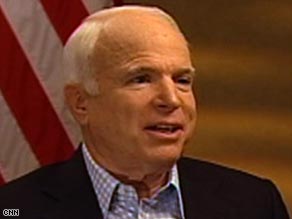 Sen. John McCain says he will consider a second economic stimulus package if he is elected president.
"And the thing that probably may encourage them a little is that Sen. Obama has been wrong," McCain said in an interview aired on CNN's "The Situation Room" on Wednesday.
"He was wrong about the surge in Iraq. He still fails to acknowledge that he was wrong. I mean, remarkable," the Republican presidential nominee continued.
"He was wrong when he said Georgia should show restraint. He was wrong when he said he would sit down across the table from Ahmadinejad, Chavez and the Castro brothers. He was wrong about those. So I can understand why the American people might be concerned."
Enemies would not similarly challenge McCain, he said, because he's already been tried.
"They know I've been tested," he said. "They know I've been tested. I've been tested many times."

Watch McCain talk about being tested »
On the economy, McCain defended his vote in favor of the government's $700 billion plan to prop up the lending industry, despite his insistence that as president he would cut spending.
Don't Miss
"Extraordinary circumstances require extraordinary actions," he told CNN's Wolf Blitzer in Manchester, New Hampshire.
He said he will consider a second economic stimulus package if he is elected president. His running mate, Alaska Gov. Sarah Palin, said the day before that "this is not a time to use the economic crisis as an excuse for reckless spending."
"Homeowners are the innocent bystanders in a drive-by shooting by Wall Street and Washington," McCain said Wednesday.
"It never should have happened," he said of the mortgage crisis that has shaken financial markets, and it would not have happened if he had been president, he said.
He attacked Obama, his Democratic rival for the White House, for saying that "when you spread the wealth around, it's good for everybody."
That is "certainly not something I would ever do," he said.

Watch where the candidates stand on the economy »
Obama made the comment as he defended his proposal to raise taxes on couples earning more than $250,000 a year while cutting taxes for those with lower incomes. Obama says his plan would lead to lower taxes for 95 percent of American families.
McCain contended that Obama has been "all over the place" with his economic proposals.
And he said flatly, "I won't raise taxes on anybody."
He also vowed to "fix Social Security," refusing to rule out raising the retirement age or allowing some Social Security funds to be invested in the stock market.
McCain discounted former Secretary of State Colin Powell's endorsement of Obama, saying that five former secretaries of state had endorsed McCain.

Watch McCain say he 'respectfully disagrees' with Powell »
McCain said he is confident of victory November 4, though many polls show him trailing far behind Obama.
CNN's Poll of Polls showed him 9 points behind Obama nationally on Tuesday, with 7 percent of voters undecided.
E-mail to a friend

All About John McCain • Barack Obama • U.S. Presidential Election