(CNN) -- Alaska Gov. Sarah Palin called former aides of Sen. John McCain "jerks" for circulating unflattering stories about her since the Republican ticket lost its bid for the White House Tuesday.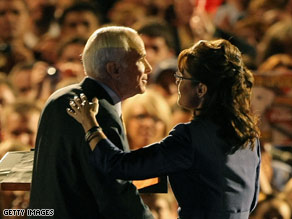 Sources close to John McCain say Sarah Palin was denied a chance to speak at McCain's concession address.
The stories, which have been attributed to unnamed sources within the McCain campaign, include claims that Palin did not know Africa was a continent instead of a country, or which countries are part of the North American Free Trade Agreement, despite touting her familiarity with neighboring Canada.
Speaking with CNN's Gary Tuchman after returning to Alaska, Palin speculated those stories may have originated with campaign staffers who helped her prepare for her debate with Democratic Vice President-elect Joe Biden.
"Those were taken out of context and that's cruel," Palin said. "It's mean-spirited. It's immature. It's unprofessional and those guys are jerks if they came away with it, taking things out of context, and then tried to spread something on national news."

Watch Palin talk about the "mean-spirited" attacks »
One source involved in preparing Palin for interviews and the vice-presidential debate told CNN "she had not paid attention to a single policy debate that's gone on in this country for 10 years."
Palin told Tuchman she remembers having conversations about NAFTA and Africa during her preparations, but that the stories about her "are not true." She said it was "cowardly" for staffers to make claims about her anonymously.
"It's not fair and it's not right."

Watch CNN's Gary Tuchman's interview with Palin »
Two McCain sources said they were furious about Palin's supposed call Saturday with French President Nicolas Sarkozy, which turned out to be a prank by two radio DJs.
Don't Miss
A source close to Palin told CNN that she had prepared to deliver a concession speech Tuesday night, and expected to address the crowd at the Arizona Biltmore in Phoenix, Arizona.
Several sources told CNN that McCain senior adviser Steve Schmidt told Palin no, in part because of built-up anger among some McCain aides who say Palin had become more interested in her own future than in McCain's election. Palin denies that claim.

Watch what's being said about Palin »
There have also been reports of a somewhat distant relationship between McCain and his running mate.
"This is so unfortunate and, quite honestly, sickening," Palin aide Meghan Stapleton said Thursday in a written statement.
"The accusations we are hearing and reading are not true, and since we deny all these anonymous allegations, there is nothing specific to which we will respond.

Watch more about the infighting »
"We have the highest regards for Sen. John McCain. Gov. Palin was honored to be chosen as McCain's running mate. And as governor of Alaska, Gov. Palin looks forward to working with President-elect Obama on securing energy independence for America."
On Election Day, Palin denied there was tension. Once back in Alaska, she said she would not respond to individual accusations.

Watch Palin discuss the controversy »
"I won't comment on anyone's gossip or allegations that are based on anonymous sources," she said. "That's kind of a small, evidently bitter type of person, who would anonymously charge something foolish like that -- that I perhaps didn't know an answer to a question. So until I know who was talking about it, I won't have a comment on false allegations."
In response to the allegations that she was ill-prepared for interviews and debate, Randy Scheunemann, an aide assigned to Palin, called her "brilliant" and said she has a "photographic memory." iReport.com: Does Palin have a political future?
Despite the acrimony, many McCain aides say they are sad the campaign team dissolved so quickly.
E-mail to a friend

CNN's Dana Bash and Gary Tuchman in Anchorage, Alaska, contributed to this report.
All About Sarah Palin • John McCain • Election Campaigns