(CNN) -- Mayors across the country are calling on President-elect Barack Obama to invest in their cities when he takes office in order to get the economy back on track.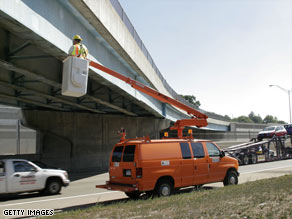 Mayors want federal funding so they can speed up repairs on bridges, roads and schools.
A group of mayors met in Washington on Monday to lobby for federal funding for what they say are "ready-to-go" infrastructure projects. They want funding to go directly to their cities instead of being distributed on a state level.
"Over the last eight years, there's been ... an absence of investment in cities, whether it's the infrastructure, public transportation, bridges, highways, schools, hospitals," Los Angeles, California, Mayor Antonio Villaraigosa said at a news conference on Capitol Hill. "We are here not for a bailout, but to present a recovery plan."
Villaraigosa and others in the U.S. Conference of Mayors want a Main Street recovery plan during Obama's first 100 days.
The mayors were joined Monday at a news conference with House Ways and Means Committee Chairman Charlie Rangel, House Transportation and Infrastructure Committee Chairman James Oberstar and Congressional Urban Caucus Chairman Chaka Fattah.
The news conference coincided with the Conference of Mayors' release of a list of 11,391 "ready-to-go" infrastructure projects that would cost $73.1 billion. The report surveyed 427 cities across the country and includes roads, bridges, schools, city halls and other public works projects.
The report says that those projects would create 847,641 jobs.
"All of these projects and more involving our bridges and schools are ready to go. They've gone through the design and approval process. They've gone through all of the political requirements. They just need money," said Michael Bloomberg, mayor of New York City.
The president-elect said over the weekend that he supports an economic stimulus plan that includes an overhaul of the nation's roads and bridges.
According to a report by the American Association of State Highway and Transportation Officials, roads and bridges in the United States need critical repairs that would total $64 billion, and construction could begin within six months if the federal government makes the funds available.
That report found 5,148 road and bridge projects that are considered "ready to go."
The mayors say that investing in their metropolitan economies is the most direct path to create jobs and jump-start the economy.
Last week, the nation's governors met with Obama and Vice President-elect Joe Biden to press for federal money to ease their fiscal strain.
Obama said he wants the governors to help draft his economic plan instead of just helping to implement it.
"If we're listening to the governors, then the money that we spend is going to be well spent, and it means that it's going to get working faster and the people in your states are going to experience prosperity sooner," he said.
In a news release from the Conference of Mayors, Manny Diaz, mayor of Miami, Florida, and president of the conference, warned against funds getting tied up in state governments.
"We stand ready to help President-elect Obama and the Congress create sustainable jobs that fix our crumbling infrastructure and promote energy independence," Diaz said.
"But to work, we must make sure that the funding is spent quickly, and not stuck in federal or state bureaucracies."
E-mail to a friend

CNN's Abbie Boudreau and Scott Zamost contributed to this report.
All About National Economy • Barack Obama