By Terry Frieden
CNN
WASHINGTON (CNN) -- Federal and local officials are bracing for an expected massive turnout for the January inauguration of President-elect Barack Obama, but say predictions of 4 or 5 million visitors to Washington are too high.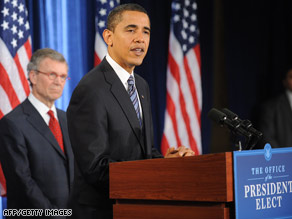 Federal officials are bracing for a massive turnout for Barack Obama's presidential inauguration.
However, authorities from several law enforcement and transportation agencies declined to offer an alternative estimate for the January 20 swearing-in and parade.
"We continue to check on expected planes and buses and hotel rooms, and I can say there's just nothing to suggest 4 million. But if it happens we'll be prepared to deal with that," said Malcolm Wiley, a spokesman for the U.S. Secret Service.
For crowd control, the Metropolitan Washington Police Department has arranged for 4,000 police from departments outside Washington to match the 4,000 Washington police officers assigned exclusively to the inauguration.
Planners are looking for parking for an expected 10,000 tour buses from outside the Washington area. That's about 10 times the number of tour buses that flood the nation's capital annually for the Cherry Blossom Festival. So far, officials have found about 75 percent of needed bus parking, but space is becoming precious. Shuttle arrangements to sports stadium locations in Maryland are under consideration.
In a briefing for reporters, officials sent something of a mixed message: While they're hoping for a giant well-controlled party, they are planning for potential logistical difficulties.
Everyone coming to Washington should know it's going to be crowded, says Kevin Griffis of the Presidential Inaugural Committee.

Watch a Web site designed for people without tickets »
Visitors, though, are likely to be in a festive, celebratory mood and willing to exercise more patience and courtesy, he said.
"This is not a group of people who are going to get a root canal together," Griffis said.
Lots of patience and comfortable shoes will be crucial for surviving the Obama inaugural.
"If you're within one to two miles of the festivities, just walk," said Lisa Forestein, a spokesperson for Washington's Metro subway system. "Otherwise you'll just stand there watching full train after full train go by."
Forestein admitted the subway system is one part of the system that will be utterly overwhelmed.
"It's going to be what we call a crush load, with passengers pushing up against each other," she said.
"We can't handle 2 or 3 million people. The most we can handle is 120,000 trips an hour. Multiply that out and the very best case scenario for all day is we can handle 960,000 trips," she said. "And that's if nobody gets sick and nobody's stroller damages a door, taking a car out of service."
Although the National Mall is officially open around the clock, officials said they will not allow visitors to camp overnight. They will allow visitors to the National Mall as early as 4 a.m., when the region's Metro subway system begins to run.
E-mail to a friend

All About U.S. Presidential Inauguration • Barack Obama • D.C. Metro Area