CHICAGO, Illinois (CNN) -- The attorney for embattled Illinois Gov. Rod Blagojevich said Monday night that he does not believe Blagojevich will resign.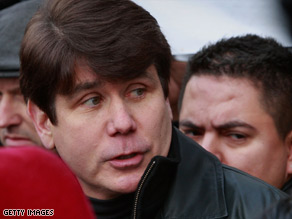 Gov. Rod Blagojevich spent nearly eight hours Sunday talking to a high-priced Chicago attorney.
Criminal defense attorney Ed Genson confirmed that he will represent Blagojevich against corruption charges.
Asked whether believes his client will resign Genson said, "No."
The statement came after a review of President-elect Barack Obama's transition activities concluded Monday he and his staff had no inappropriate discussions with either Illinois Gov. Rod Blagojevich or Blagojevich's staff about filling Obama's vacant U.S. Senate seat.
"There is nothing in the review that was presented to me that in any way contradicted my earlier statements that this appalling set of circumstances that we've seen arise had nothing to do with my office," Obama said during a news conference Monday afternoon.
Obama noted that U.S. Attorney Patrick Fitzgerald, who is heading the investigation of Blagojevich, has requested a week's delay of the public release of the review so that it would not "interfere with an ongoing investigation" of the governor.
Obama addressed the Blagojevich situation Monday when he took questions from reporters after announcing his energy and environmental team.
"As I said in a press conference last week, I had no contact with the governor's office," he said. "And I had no contact with anybody in the governor's office."
Obama spokesman Dan Pfeiffer also said that Obama had directed transition counsel Gregory Craig to keep Fitzgerald's office "informed of this fact-gathering process in order to ensure our full cooperation with the investigation."
Blagojevich was arrested last week after federal prosecutors accused him of trying to "sell" Obama's vacant Senate seat by pressuring possible candidates to provide campaign contributions and other favors. Illinois law gives the governor sole power to appointment interim senators.
Blagojevich's arrest has thrown Illinois politics into chaos, and many of the state's political leaders -- and Obama -- have called on the governor to resign.
Obama's comments came the same day that Illinois House Speaker Mike Madigan announced the formation a 21-member legislative committee to consider the possible impeachment of Blagojevich.
Don't Miss
The committee will include 12 Democrats and nine Republicans.
Madigan, a Democrat, said that due to "the gravity of the subject matter," the committee's Democratic members will all be longtime members of the state Legislature. Each member will have served at least six terms.
Madigan promised that while he has often opposed Blagojevich's agenda, his "record of opposition ... will not stand in the way of this committee affording to the governor all of his constitutional rights under the federal and state constitution, rights such as due process [and] equal protection under the law."
He also promised the panel will work continuously, with the exception of Christmas Eve and Christmas Day as well as New Year's Eve and Day, "until they have rendered a judgment."
Madigan is the father of Illinois Attorney General Lisa Madigan.
Lisa Madigan is trying to get the state Supreme Court to declare Blagojevich "unfit" for office.
There are other signs that Blagojevich could be preparing for a fight. He spent nearly eight hours Sunday talking to a high-priced Chicago attorney known for helping big shots in a bind.
Blagojevich spoke briefly with reporters outside his attorney's office Sunday afternoon. When asked if he will resign, he said, "I just think you should all have a great holiday season."
"There will be an appropriate time to talk about this, but let me just wish everybody happy holidays," he said. "Things will work out just fine."
On Friday, Lisa Madigan petitioned the state Supreme Court to remove Blagojevich temporarily from office or at least strip him of some of his authority, arguing that the governor was "disabled" and cannot carry out the functions of his office.
If Blagojevich does resign, or if the state high court removes him from office, Illinois Lt. Gov. Pat Quinn would become acting governor.
On Sunday, Quinn again called on the governor to leave office voluntarily.
"I hope the governor does resign," Quinn said. "I think that is best for the people of Illinois as well as himself and his family. ... He obviously needs to do something because our state is in crisis."
E-mail to a friend

CNN's Drew Griffin, Brianna Keilar and Aaron Cooper contributed to this report.
All About Rod Blagojevich • Lisa Madigan • Barack Obama