CHICAGO, Illinois (CNN) -- Rep. Jesse Jackson Jr., who was cited in a criminal complaint against Rod Blagojevich, went to the U.S. Attorney's office about alleged wrongdoers, including the Illinois governor, a Jackson spokesman said Tuesday.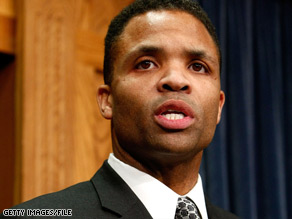 Jesse Jackson Jr. reported in 2006 what he believed was a shakedown by the Illinois governor.
Jackson rejected being labeled with the term "informant" in a message to CNN contributor Roland Martin.
Spokesman Kenneth Edmonds described Jackson's interaction with federal authorities this way: "As a responsible citizen and elected official, Congressman Jackson has in the past provided information to federal authorities regarding his personal knowledge of perceived corruption and governmental misconduct.
"This was completely unrelated to the current investigation regarding the U.S. Senate appointment. And it is absolutely inaccurate to describe the congressman as an informant," Edmonds said in a written statement.
Jackson, a Democrat, has given information regarding the embattled Democratic governor of Illinois, though not in the case currently under investigation, Edmonds said.
In addition, two sources close to Jackson told CNN that, in 2002, Blagojevich -- then running for governor of Illinois -- solicited a $25,000 campaign donation from Jackson, which he did not get.
At the time, Jackson's wife, Sandi, was a candidate for the job of director of the state's Lottery Commission, a post she did not win, the sources said.
After Blagojevich took office, in early 2003, he told Jackson something to the effect of, "You see what $25,000 would have done?" the sources said.
In 2006, Jackson reported the incident, which he believed to have been an attempt at a shakedown, the sources said.
The report, the sources said, came three three years later because Jackson's memory was jogged by another case -- that of developer Tony Rezko, whose fraud and corruption trial included testimony about $25,000 donations to Blagojevich.
Jackson did not endorse Blagojevich in his initial campaign and tried to stay on the sidelines during the governor's re-election bid, one of the sources said.
Blagojevich's office did not return calls seeking comment.
The comments by Jackson's spokesman come on the same day members of an Illinois House of Representatives panel met to determine whether there is a basis to impeach Blagojevich.
Federal prosecutors accuse Blagojevich of trying to sell President-elect Barack Obama's former Senate seat.
Don't Miss
The governor was arrested December 9 on federal corruption charges and has since ignored calls to resign.
Although Blagojevich, 52, has not commented publicly on the charges, his lawyer Ed Genson said the governor had done nothing wrong and does not intend to step down.
"We're going to fight this case," Genson said.
The 21-member panel is "not a committee to impeach the governor, but rather to investigate whether or not there exists a basis for the drafting and consideration of an impeachment motion by the full House," said Rep. Barbara Flynn Currie, the majority leader and chairwoman of the committee.

Watch as panel begins its work »
The proceedings will be fair, Currie said.

"Many Illinoisans today, including some of the lawmakers chosen to sit on this committee, have strong feelings about the governor and the crimes of which he's been accused," she said. "But let us remember that we are not 'Alice in Wonderland.' We're not the Red Queen; we do not sentence first and then do the verdict."

Watch as panelists debate governor's capacity to serve »
The committee, which includes a dozen Democrats and nine Republicans, was meeting to discuss its investigation and procedures.
Currie said she met Monday with U.S. Attorney Patrick Fitzgerald, the lead prosecutor in the case, to ask for help and information as well as "to make sure our investigation doesn't trample on his."
Fitzgerald had asked the committee put its request in writing, and Currie said the committee planned to do that.
Currie adjourned the hearing until Wednesday so Genson could attend. She said she had also written a letter to Blagojevich, inviting him to participate in the proceedings.
She said that on Wednesday, members will probably examine the 76-page federal criminal complaint, which includes transcripts of several expletive-laced taped phone conversations the governor had, in which he allegedly tried to personally benefit from the Senate vacancy.
Many members said Tuesday they regretted having to call impeachment proceedings but said it was necessary.
"It's unfortunate we're here," said Republican Rep. Jim Durkin, "but we have responsibilities."
Democratic Rep. Frank Mautino added, "No one takes any joy in watching someone stumble, but in the course of going forward, we all have a job to do."
On Monday, Obama said a review of his transition team's activities showed that he and his staff had no inappropriate discussions with either Blagojevich or Blagojevich's staff about filling the vacant Senate seat.
"There is nothing in the review that was presented to me that in any way contradicted my earlier statements that this appalling set of circumstances that we've seen arise had nothing to do with my office," Obama said.
Obama noted that Fitzgerald has requested a week's delay of the public release of the review so that it would not "interfere with an ongoing investigation" of the governor.
On Sunday, the governor spoke briefly to reporters.
"There will be an appropriate time to talk about this, but let me just wish everybody happy holidays," he said. "Things will work out just fine."
Blagojevich and his former chief of staff, John Harris, 46, were each charged with a count of conspiracy to commit mail and wire fraud and a count of solicitation of bribery, authorities said. iReport.com: Do you trust your leaders?
Harris has since resigned but has not commented on the charges.
On Friday, Illinois Attorney General Lisa Madigan petitioned the state Supreme Court to temporarily remove Blagojevich from office or, at least, strip him of some of his authority. Madigan says that Blagojevich is "disabled" and cannot carry out the functions of his office.
"We are not looking to try to convict him criminally with the pleadings that we brought to the Illinois Supreme Court," she said Sunday. "We're simply recognizing that these are extraordinary, unprecedented circumstances and that we need to have a governor who can actually use the powers of that office and govern our state, or else our state becomes paralyzed."
"There is also this serious concern that absolutely everything that he does from here on out is going to be tainted," she said. "It's going to be illegitimate. And so we think it is absolutely obvious that he is incapable of governing, and the best thing to do is to move aside."
E-mail to a friend

All About Rod Blagojevich • Barack Obama • Patrick Fitzgerald