(CNN) -- Embattled Illinois Gov. Rod Blagojevich said Wednesday that he "can't wait to begin to tell my side of the story."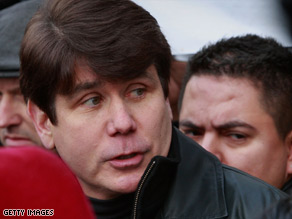 Gov. Rod Blagojevich has ignored calls to resign after being arrested last week on federal corruption charges.
In the week since Blagojevich was arrested on federal corruption charges, there have been repeated calls for his resignation.
Although Blagojevich, 52, has not commented publicly on the charges, his lawyer Ed Genson said the governor had done nothing wrong and does not intend to step down.
"I can't wait to begin to tell my side of the story and to address you guys and most importantly the people of Illinois. That's who I'm dying to talk to," Blagojevich told reporters gathered outside his home.
"There's a time and place for everything. That day will soon be here, and you might know more about that today, maybe no later than tomorrow."
Asked what it is he wants to say, Blagojevich told the reporters to "hang loose."
Federal prosecutors accuse the governor of trying to sell President-elect Barack Obama's former Senate seat.
Don't Miss
Members of an Illinois House of Representatives panel met Wednesday to continue their discussions about whether there is a basis to impeach Blagojevich.
The 21-member panel is "not a committee to impeach the governor, but rather to investigate whether or not there exists a basis for the drafting and consideration of an impeachment motion by the full House," said Rep. Barbara Flynn Currie, the majority leader and chairwoman of the committee.
The committee includes 12 Democrats and nine Republicans.

Watch more on the impeachment panel »
Currie had said that on Wednesday, members would probably examine the 76-page federal criminal complaint, which includes transcripts of several expletive-laced taped phone conversations the governor had, in which he allegedly tried to personally benefit from the Senate vacancy.
Genson spoke before the panel Wednesday afternoon, telling them that he thinks the information in the complaint could have been taken out of context.
"We also haven't seen the wiretaps. We haven't seen how many conversations there were. We haven't seen whether these were taken out of context. We haven't see if they were accurately described. ... We haven't seen any of this," he said.
"We have seen a one-sided summary by someone who probably didn't look at the wiretap trying to get a determination in this case so that this man can be arrested. That's what happened."
Genson said he thought the proceeding going on is "unfair and quite frankly illegal" because it is "basing its findings on this summaries of wiretaps."
On Tuesday, many of the panel members said they regretted having to call impeachment proceedings, but said it was necessary.
"It's unfortunate we're here," said Republican Rep. Jim Durkin, "but we have responsibilities."
Democratic Rep. Frank Mautino added, "No one takes any joy in watching someone stumble, but in the course of going forward, we all have a job to do."
Obama is one of the politicians who has called on Blagojevich to step down.
Obama said earlier this week that a review of his transition team's activities showed that he and his staff had no inappropriate discussions with either Blagojevich or Blagojevich's staff about filling the vacant Senate seat.
Obama noted that U.S. Attorney Patrick Fitzgerald, the lead prosecutor in the case, has requested a week's delay of the public release of the review so that it would not "interfere with an ongoing investigation" of the governor.
At a news conference Wednesday afternoon, Obama said "it's a little bit frustrating" to have to wait to release his team's inquiry, but he said the details should be out soon.
"It's not going to be that long. By next week, you guys will have the answers to all of your questions," he said.
E-mail to a friend

All About Rod Blagojevich • Illinois