By Paul Steinhauser
CNN Deputy Political Director
WASHINGTON (CNN) -- A new national poll indicates Americans are split on whether aides to President-elect Barack Obama did something inappropriate in their contacts with embattled Illinois Gov. Rod Blagojevich.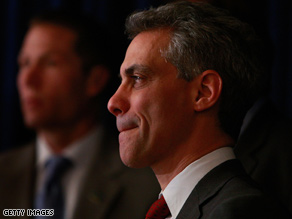 Rahm Emanuel, Barack Obama's chief of staff, reportedly had one conversation with Illinois Gov. Rod Blagojevich.
Twelve percent of those questioned in a CNN/Opinion Research Corp. survey released Monday say Obama aides did something illegal, with another 36 percent feeling Obama aides didn't act illegally but did do something unethical. Forty-three percent say no Obama aides did anything seriously wrong.
Blagojevich was arrested December 9 on federal corruption charges. Among the allegations is that the Illinois governor tried to sell or trade Obama's former Senate seat.
Obama stepped down as the junior senator from Illinois last month after winning the presidential election. It is the sole authority of the Illinois governor to name a successor to serve the remaining two years of Obama's term.
Two transition aides said that the Obama team will release a report Tuesday detailing contact between the president-elect's staff and Blagojevich and his advisers.
The results of the internal investigation reportedly will list one conversation between Obama's incoming chief of staff, Rep. Rahm Emanuel of Illinois, and Blagojevich.
Don't Miss
Sources have told CNN that Emanuel has not been implicated in the case. U.S. Attorney Patrick Fitzgerald has said that Obama was not a target of the investigation.
"Obviously, those figures reflect the views of Americans before they have heard the report from the Obama camp on this topic," says Keating Holland, CNN's polling director. "It is likely that those numbers may change once that report has been released and digested by the public."
The 76-page criminal complaint against Blagojevich includes snippets of intercepted phone calls involving the governor's alleged efforts to benefit from the Senate vacancy.
Blagojevich on Friday said he is not guilty of any criminal wrongdoing and has no plans to resign.

Watch Blagojevich proclaim his innocence »
"Not surprisingly, there is a big partisan difference on this question," Holland said. "Fifty-nine percent of Democrats think that Obama aides did nothing wrong. Three-quarters of Republicans think that Obama officials did something illegal or unethical." iReport.com: Do you trust your leaders?
The CNN/Opinion Research poll was conducted Friday through Sunday, with 1,013 adult Americans questioned by telephone. The survey's sampling error is plus or minus 3 percentage points.
E-mail to a friend

All About Rod Blagojevich • Barack Obama • Rahm Emanuel