WASHINGTON (CNN) -- President-elect Barack Obama last week talked to federal prosecutors investigating Illinois Gov. Rod Blagojevich, according to an internal report the Obama transition team released Tuesday.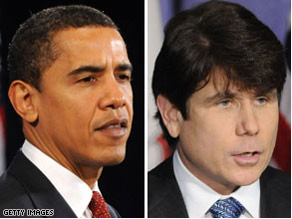 The report says Barack Obama had no contact with Rod Blagojevich or his staff about a Senate seat deal.
The report, compiled by Greg Craig, Obama's incoming White House counsel, said the president-elect talked to officials from the U.S. Attorney's Office on Thursday.
Investigators also interviewed key Obama adviser Valerie Jarrett on Friday and Obama's chief of staff, Rahm Emanuel, on Saturday.
The transition team's report concluded that neither Obama nor his aides -- including Emanuel -- had any "inappropriate" contacts with Blagojevich or Blagojevich's staff.
The report states that there is "no indication of inappropriate discussions with the governor or anyone from his office about a 'deal' or a quid pro quo arrangement in which he would receive a personal benefit in return for any specific appointment to fill the vacancy."
The report states that Obama himself had no "contact or communication with Governor Blagojevich or members of his staff about the Senate seat."
FBI agents arrested Blagojevich on December 9 after federal prosecutors alleged, among other things, that he had tried to "sell" Obama's former Senate seat. It is the sole authority of the Illinois governor to name a successor who would serve the remaining two years of Obama's term.
When asked earlier in the day whether the report would exonerate Obama's team, Vice President-elect Joseph Biden said, "I don't think there's anything to exonerate."
Don't Miss
"It's been clear that the president-elect has had no contact with Blagojevich ... or anyone on [Blagojevich's] team -- that he's asserted. And you'll soon find in the reports that ... there has been no inappropriate contact by any member of the Obama staff or the transition team with Blagojevich."
The report is significant because of lingering questions about what role -- if any -- top Obama aides such as Emanuel played in the so-called pay-to-play scandal engulfing the governor of Obama's home state.
Critics, however, undoubtedly will wonder why the Obama team waited until Christmas week to release the report unless they wanted to bury bad news.
A Democratic official noted the timing of the release was "driven" by the prosecutor in the Blagojevich case, U.S. Attorney Patrick Fitzgerald, who urged Obama aides to hold off on the report out of a fear that an early release could jeopardize parts of his criminal investigation. iReport.com: Do you trust your political leaders?
Fitzgerald's long-running probe of Blagojevich remains open.
E-mail to a friend

CNN's Ed Henry contributed to this report.
All About Barack Obama • Rod Blagojevich