LONDON, England (CNN) -- Amy Winehouse's first full U.K. show in seven months has been overshadowed by an incident in which she appeared to throw a punch at a fan in the front row.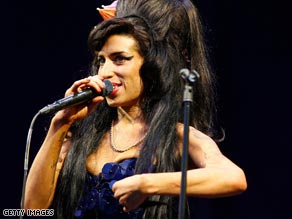 Winehouse's Glastonbury appearance was her first full performance in seven months.
The incident occurred during the troubled singer's performance Saturday at the Glastonbury Festival in front of around 80,000 people.
Stepping down into the pit between the outdoor stage and the audience during a rendition of "Rehab," Winehouse seemed to lash out at a member of the crowd before being gently escorted back to the stage by security staff.
Winehouse lashed out because someone grabbed her breasts, according to festival organizer Michael Eavis.
Winehouse's appearance at the legendary festival had appeared doubtful since she was hospitalized after collapsing at her London home earlier this month.

Watch singer lash out at crowd »
In newspaper interviews published last weekend, Mitch Winehouse, the singer's father, said his daughter had damaged her lungs and developed early-stage emphysema as a consequence of allegedly smoking crack cocaine and cigarettes.
But the 24-year-old returned to the stage Friday by performing alongside other stars at Nelson Mandela's 90th birthday celebration concert in London.
"You don't even know how happy I am to be here tonight," Winehouse told Glastonbury. She also paid tribute to her jailed husband Blake Fielder-Civil, prompting jeers from some in the crowd.
Winehouse was followed onto the festival main stage by American rapper Jay-Z, whose headline appearance had generated controversy with Oasis guitarist Noel Gallagher claiming there was no place for hip hop at the traditionally rock-oriented event.
But festival goers turned up in droves to see the superstar, who began his set by leading a singalong version of Oasis' most famous hit, "Wonderwall."
He appeared to win over his critics, asking at the end of his set: "They say you don't want me here, Glastonbury. Now tell me, where is the love?" to enthusiastic cheers and applause.
"Glastonbury's not just about rock bands, it's about music, and this will be a hard act to follow," a reviewer wrote for the festival's official Web site.
E-mail to a friend

All About Amy Winehouse