By CNN's Mairi Mackay





LONDON, England (CNN) -- In a world of celluloid action stuffed with CGI fights and sci-fi gadgetry, thank heavens for Jason Bourne, the amnesiac assassin who's so lethal that he can turn a hardback book into a weapon.
The only foe who's come anywhere close to trouncing the resourceful hero was Desh Bouksani, the Blackbriar super-assassin sent to Morocco to despatch him in 2007's "The Bourne Ultimatum."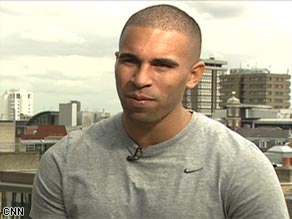 Action actor Joey Ansah says the days of martial arts beefcake with no acting skills are over. He's one of a new breed of multi-talented actors who can act as well as fight.
It's a classic fight in a series celebrated for gritty realism and great stunts. Bourne, played by Matt Damon, and Joey Ansah's Desh throw each other around the room with primal ferocity: you wonder how they did it without injuring each other.
Ansah (JA) puts it down to being a one of a new breed of stunt actors who can play parts just as well as they can fight. He talks to "The Screening Room" (TSR) about the the stunt tricks that allowed the Bourne team to create unprecedented realism and still be around to tell the story. Video: Ansah explains the secrets of a great on-screen fight

(TSR): Your big break came in 2007 when you played Desh in the "The Bourne Ultimatum." How did that come about? Did the fact that you were able to do your own stunts help?
(JA): By then I had been acting full-time for about four years. I had also auditioned for the casting director of "Bourne" in the past. I had obviously done something right since he remembered me. My role included a big fight against Matt Damon. It is the fight of the movie. There were several rounds of auditions. The first round was physical -- to see if you could ride a motorbike and do choreography. Then there was a dramatic audition and another round for the director.
They didn't realize the full extent of what I could do until I got the role. The fight wasn't going to look like that if someone else got the role. The flip out of the wrist lock was my idea. I took hits that most people wouldn't take and performed moves that hadn't been done before. It was a great opportunity to showcase something.
(TSR): The fight scene in "The Bourne Ultimatum" is incredibly violent and visceral. How did you make it look so real?
(JA): That's a good question. You see a lot of fight scenes that are uninspiring, but the "Bourne" films are known for their gritty realism. Matt Damon's Jason Bourne is a very everyday type of character, so the fighting has to be very real.
I remember telling the fight coordinator that we had to make this the best fight scene in the franchise. We rehearsed and collaborated to get some great stuff. When I met with Matt for the first time I was like, "We have to get to go all out."
The choreographer, Jeff Amada -- he's done films such as "The Crow", "Fight Club", "Blade," "Lethal Weapon" -- was one of my favourite choreographers, so working with him was great.
The choreography itself was brilliant, but it's also how you fill it out with reactions. Actors aren't used to action, so they double-up for painful scenes or they won't be able to film them in such a brutal way. But the good thing about Matt is that he is very rough and ready. The fight took six 13-hour days to film.
(TSR): You said that you were willing to get hurt. Can you talk a bit more about that?
(JA): My ethos is that it is an art form. If your character is going to take a beating, then you do too. For example, the book scene where Matt picks up a book and rams it into my throat, smashing me into the cabinet -- the book was squishy but the core was solid. We messed around to see if I could hold the book and make it look like he was hitting me. In the end I said, "Matt, just do it. What is the worst that can happen." And he was like, "Are you sure?" So we go for it and we hit the [cabinet] so hard the doors come off. Everyone was worried. But when we looked at the playback we knew we got it.
(TSR): Do you see yourself as part of a new breed of action actors?
(JA): During the 80s, films with modest budgets would get cinema distribution and the stars would have predominantly action-orientated backgrounds. But it's changed. Now audiences demand a higher standard of acting. Gone are the Van Dammes, Schwarzeneggers and Stallones ... the muscle-bound action hero. The modern action hero is Keanu Reeves in "The Matrix" or ... good actors like Will Smith, Matt Damon. If you reach Jackie Chan's level you will get something really engrossing to watch. That's a new breed and I want to be in that niche. Do you prefer muscle-bound tough guys like Arnie or modern action heroes like Matt Damon?
(TSR): You played a ninja in "Batman Begins." Did you have to audition to become a stuntman on the film?
(JA): Yes, there was an audition. I was cast as one of the League of Shadows -- the group of ninjas who trained on the mountain camp where Liam Neeson's character trains Bruce Wayne.
[The audition] was at Shepperton Studios [in London.] We had to do solo performances to show our skills. Then we did choreographed sword work -- alone and in a team.
They make you jump through hoops but it was good because my friends and I got on that film together and we had a good laugh.
(TSR): How did you first become a stunt actor?
(JA): Well, my story is quite interesting. I started off young, when I was doing a lot of theatre. I caught the martial art bug aged nine and have trained in martial arts, tae kwon do, ninjutsu, capoeira and got into acrobatics.
Then I stopped acting for awhile. I thought I could get into showbiz. Maybe with these physical skills I'd have a quick route in. So originally, I thought I'd work as a stuntman. That's what I began working towards and ended up working on "Batman Begins" and when I decided I wanted to pursue an acting career and do my own action in my films.
(TSR): Was it a big transition to go from the acrobatic and martial arts to the skills you have to use as a stuntman?
(JA): Yes. But you can tweak your training to be more stunt-focused. The real difference between martial arts or real combat and screen fighting is that real fights are shorter. But in on-screen fighting you want to extend everything so the audience can see the extension of your techniques. So, a lot of moves are exaggerated. And then there are reactions. In action you have to be able to deliver good technique and give good reactions, because reactions make your opponents' actions look more powerful.
(TSR): What does it take to make it as a stuntman?
(JA): In Britain, to make it as a stuntman, ideally you want to join the British Stunt Register and the British Actors' Equity Stunt Register. To do that you have to be qualified in six disciplines, such as swimming, horse riding, gymnastics, car racing, martial arts, boxing, fencing. You must also have 60 days of paid work in front of a camera.
(TSR): Do you think it is hard to break into the stunt industry?
(JA): It is. Over here it's a very closed shop. If anything, they almost go out of their way to scare off new people because there are already a lot of stuntmen or women and not enough work. It's like jumping through hoops to get on the register.
So, it will take anywhere from three to five years to become qualified. And it will cost you thousands to do it.

(TSR): Do you think that stuntmen are the unsung heroes of Hollywood?
(JA): Yes, in a big way. Moments in the greatest action films and even non-action films are created by very skilled stuntmen. What gets to me is the credits -- there's just a block of stuntmen's names. So you don't know who did the stunt. In "The Dark Knight" you want to know the name of the stuntman who leapt off a building in Hong Kong and hung onto an airborne helicopter. There is lobbying for the Oscars to have a category for stuntmen.
E-mail to a friend