By Fei Phoon
For CNN
LONDON, England (CNN) -- When director Darren Aronofsky approached Mickey Rourke about starring in "The Wrestler," Rourke was understandably apprehensive.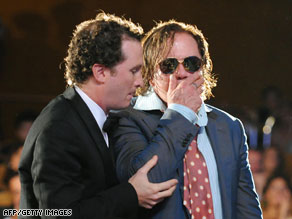 Director Darren Aronofsky (L) and actor Mickey Rourke upon winning the Golden Lion award for "The Wrestler" at the Venice Film Festival.
For a start, he found it hard to deny the familiarity of character Randy "Ram" Robinson's hard luck.
A retired professional wrestler, Randy is stuck in a dead-end job, struggling after hours to relate to his estranged daughter and win over an aging stripper.
"To be brutally honest, when I read the material, I really didn't want to make the movie because it was too close to home for me," says Rourke.
Hollywood's latest comeback kid may have conquered all doubts about his star potential in the "The Wrestler" after it won the prestigious Golden Lion award at this year's Venice International Film Festival, but it's not hard to see why he was uneasy.
Rourke started out in amateur boxing, but left the ring in the early 1970s for health reasons.
He made his movie debut in 1979 in Steven Spielberg's WWII comedy "1941," and his combination of bruised vulnerability and bad-boy good looks shot him to sex symbol status soon after.
But his reputation for being difficult meant the film offers soon dried up. He briefly returned to boxing in the period that followed, but was left broke, homeless, and with his formerly handsome face appallingly disfigured.
Rourke describes this period as living in "a state of shame."
"It's better that ... you were never anybody than being a has-been. It's a hard pill to swallow if you're a proud man," he confesses.
Rourke may have had his doubts but Aronofsky had already decided he was exactly what the film, "an actor's piece," needed. He was determined to have him for the lead.
"When I met Mickey, I knew that he was at the point in his life where ... he was self-aware of what had happened ... and what he had done and was ready to get back in the game ... I just saw the connections between that and the character in the film," Aronofsky tells CNN at the Toronto Film Festival.
The problem was, the film's potential investors didn't.
"No one believed in Mickey. They said, 'How are you gonna make him sympathetic?' and I was like, 'You clearly haven't met Mickey Rourke,'" says Aronofsky, of the "impossible" task of raising funds for the movie.
He adds: "And no one had seen that, but if you look back at those old performances it was there."
Rourke first made his name in the entertainment industry as a highly versatile and committed actor, gaining praise for his work in films such as "Diner" (1982) and "Barfly" (1987).
In 2005 he impressed as the anti-hero Marv, a bloodthirsty brute out to avenge his lover's murder, in "Sin City."
"The thing is, Mickey hasn't had the chance to play a sympathetic character in, what is it, 10 to 15 years," says Aronofsky, "When he has been working he's been playing tough guys, and when you meet the guy you realize ... there's an incredible, heartfelt, gentle soul."
The film gathered a meager budget of $6 million, and Rourke underwent an intensive regimen to buff up for his role, under the guidance of Samoan-American professional wrestler Arthur "Afa" Anoa'i.
This brought back some good memories for the one-time boxer, who was passionate about meeting his goals: over 12 weeks, he packed on 25 pounds of muscle.
The psychological and emotional pressures on Rourke to confront his character, however, were no cruise.
"The speech that I had with Evan (Evan Rachel Wood, who plays his daughter in the film) ... One day when I was her age, I went to find my father and I had that speech with him, so to turn it around was hard," he says.
But Rourke has nothing but gratitude for Aronofsky's daring to trust him: "He laid a lot on the line and with my old reputation he had a little bit to worry about."
Not to mention the rush to meet the festival dates.
Filming was wrapped up in mid-March of this year, and post-production work was completed just a day before Aronofsky and Rourke were expected in Venice, meaning festival-goers had little to no information about the film. It was screened again days later at the Toronto International Film Festival.
Did they have any idea that the film would be such a critical hit?
"I guess the first kind of feeling we had was when we went for the press conference and the press stood up and applauded for us, which I've never seen," admits Aronofsky.
Aronofsky is a veteran risk-taker whose past films have drawn a confusing mix of reactions. His last film and 2006 Venice film festival entry, "The Fountain," was booed heartily by the press but received a 10-minute standing ovation at its public screening.
Rourke, however, can surely appreciate being Aronofsky's biggest and most rewarding risk so far.
E-mail to a friend

All About Venice Film Festival • Mickey Rourke • Darren Aronofsky • Toronto International Film Festival Group • Venice