From Shelby Erdman
CNN
(CNN) -- Grammy-winning trumpeter Freddie Hubbard, a leading figure in jazz during a five-decade career, has died at age 70, about a month after suffering a heart attack, his publicist said Tuesday.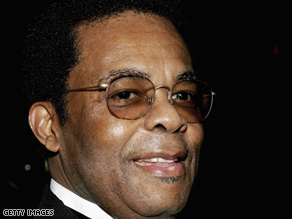 In the 1970s, Freddie Hubbard made a series of funk- and fusion-oriented albums, such as the 1970 hit "Red Clay."
Hubbard died Monday morning in Sherman Oaks, California, outside Los Angeles, after a long battle with heart disease, spokesman Don Lucoff told CNN. He had been hospitalized since suffering a heart attack the day before Thanksgiving and took a turn for the worse last week, Lucoff said.
"Freddie Hubbard, in terms of the advent of modern jazz, the birth of bebop, was probably among the five greatest trumpet players that has ever lived ... He's really right up there with Dizzy Gillespie, Miles Davis, Lee Morgan, Roy Eldridge, an innovator and great composer," Lucoff said.
A native of Indianapolis, Indiana, Hubbard moved to New York in the late 1950s. By the mid-1960s, he was playing alongside such major jazz figures as Art Blakey, Oliver Nelson, Ornette Coleman, Herbie Hancock and Wayne Shorter.
In the early 1970s, he made a series of funk- and fusion-oriented albums, such as the 1970 hit "Red Clay" and 1972's Grammy-winning "First Light."
"The thing that set Freddie Hubbard apart was he played rapidly, he played soulfully and he really set the pace for a lot of the trumpet players who have come after him in the last 20 or 30 years," Lucoff said.
Hubbard was named a National Endowment for the Arts Jazz Master in 2006. He is survived by wife, Briggie, and son Duane.
E-mail to a friend

All About Herbie Hancock • Miles Davis