(CNN) -- For two weeks in 1976, Nadia Comaneci was probably the most recognizable person on the planet.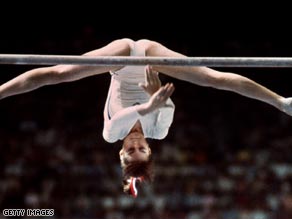 Comaneci scored seven perfect 10s in Montreal in 1976.
Just 14-years-old and standing less than five feet tall, the elfin Romanian was the undisputed star of that year's Games in Montreal after becoming the first gymnast in history to score a perfect 10.
Comaneci finished up with three gold medals and -- just to prove that her initial effort had been no fluke -- seven perfect scores.
Her initial performance on the uneven parallel bars was greeted with uproar as the three-digit scoreboard, struggling to cope with what had been considered an unachievable feat, flashed up 1.00.
Comaneci finished with four perfect 10s and the gold medal on the bars, but it was on the balance beam, one of gymnastics' most dangerous disciplines, that Comaneci truly dazzled.
Seemingly fearless, Comaneci pirouetted and back-flipped her way to two more perfect 10s and her second gold.
Her final perfect score came in the floor routine as she also collected first place in the overall competition.
Comaneci's transformation into an international celebrity -- she appeared on the front covers of Time, Newsweek and Sports Illustrated in the same week -- had been as unexpected as it was sudden.
Yet Comaneci had been working towards the Olympics ever since she had been picked out as a gymnast of rare talents as a six-year-old growing up in the industrial town of Onesti.
The reality of life as an Olympic champion at home in Nicolae Ceausescu's Romania however, was not easy.
Constant surveillance Comaneci was honored as a Hero of Socialist Labor on her return home, yet the regime -- terrified that Comaneci would defect after enjoying her taste of western celebrity -- kept its greatest star under constant surveillance.
Olympic record

1976 -- 3 gold (all-round, balance beam, uneven bars), 1 silver (team), 1 bronze (floor exercises)
1980 -- 2 gold (balance beam, floor exercises), 2 silver (all-round, team competition)

Four years later, a very different Comaneci returned to Olympic competition in Moscow. As an 18-year-old, she was four inches taller, 20 pounds heavier and suffering from sciatica -- a teenage starlet already starting to fade.

Still, Comaneci was able to retain her gold medal on the balance beam, and collected another one in the floor exercises.

But she was also involved in one of the bitterest incidents of the Games when she was controversially beaten in the all-round competition by the Soviet gymnast Yelena Davydova.

It took the judges 28 minutes to decide the result and, ultimately, it was a lower score from the Soviet judge -- perhaps reflecting the worsening relations between the Soviet Union and its formerly loyal satellite -- that denied Comaneci her second straight gold in the event.

Comaneci retired in 1984, traveling to Los Angeles that year as a team coach, yet she found it difficult to adjust to a life out of the spotlight.

In 1989, a few weeks before the collapse of the Ceausescu regime, she defected to the United States, finally settling in Norman, Oklahoma to run a gymnastics school after marrying U.S. gymnastics star Bart Conner in 1996.

In 2000 Comaneci was named as one of the athletes of the century by the Laureus World Sports Academy.

E-mail to a friend

All About Olympic Games • Gymnastics • Romania