(CNN) -- Sixteen years after she swept to three gold medals at the 1988 Olympics in Seoul, South Korea, Florence Griffith-Joyner remains the fastest woman ever.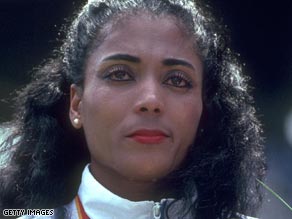 Griffith-Joyner: From bank clerk to the fastest woman on the planet in two years.
Griffith-Joyner's transformation from a modestly successful sprinter into "Flo-Jo" -- the blazing comet that dazzled the world that year -- is one of the greatest tales of sporting achievement in Olympic history.
It was not just athletic success that got Flo-Jo noticed. Her elaborately decorated six-inch nails, which dug into the track like claws as she rested on the starting block, and her taste for day-glo lycra bodysuits, made her an icon of 80s glamour.
But her death a decade after her Seoul glory, aged just 38, from an epileptic seizure provides a tragic epitaph to her story.
Florence Griffith had won a silver medal in the 200 meters at the boycott-affected 1984 Games in Los Angeles, yet she had garnered more attention when she was denied a place on the relay team because officials feared her nails were too long to ensure the safe passage of the baton.
By 1986 she was out-of-shape and working as a bank clerk, her athletics career seemingly over. Fortunately, Griffith found herself among company determined that she should not squander her talent.
With the encouragement of coach Bob Kersee and his wife Jackie Joyner-Kersee (who went on to win double gold in the heptathlon and the long jump in 1988), Griffith started to run seriously again. In 1987 she also married Joyner-Kersee's brother Al Joyner, the 1984 Olympic triple jump champion.
Unchallenged victory
Their faith in Griffith-Joyner's ability was spectacularly rewarded on July 16, 1988, when she recorded 10.49 seconds in the quarterfinals of the U.S. Olympic trials, smashing the existing world best by more than a third of a second.
Two months later she followed that up by streaking to an unchallenged victory in the 100 meters in Seoul, and setting a new world record of 21.34 seconds in the 200 meters.
Doubts over her ability to handle a baton were also laid to rest as she led the U.S. team to victory in the 4x100 meters relay.
Inevitably there were accusations that Griffith-Joyner's success, which coincided with Ben Johnson's exposure as a drugs cheat, was due to doping.
Olympic record
1984
-- 1 silver (200 meters)
1988
-- 3 gold (100 meters, 200 meters, 4x100 meters relay), 1 silver (4x400 meters relay)
Her decision to retire a few months later, cashing in on her image by setting up fashion design and cosmetics companies, did little to allay suspicions. Yet the fact remains that Griffith-Joyner passed 11 drugs tests in 1988.
The dispute followed Griffith-Joyner to her grave. Her defenders claimed an autopsy proved her premature death was not drug-related -- yet coroners admitted they were unable to tell whether or not she had ever used steroids.
Ultimately her success was grounded in hard work and her desire to escape the poverty of the Los Angeles projects. The seventh of 11 children, she had traveled hours each way on buses to attend California State University at Northridge.
Nor did she forget her roots. In 1993 she was chosen by Bill Clinton to co-chair the President's Council on Physical Fitness and Sports and a year later she established the Florence Griffith-Joyner Foundation to help underprivileged children.
"We were dazzled by her speed, humbled by her talent, and captivated by her style," said Clinton following her death.
"Though she rose to the pinnacle of the world of sports, she never forgot where she came from, devoting time and resources to helping children -- especially those growing up in our most devastated neighborhoods -- make the most of their own talents."
E-mail to a friend

All About Olympic Games • Sports • Sprint Races