(CNN) -- With nine gold medals and 22 world records, Paavo Nurmi is the greatest endurance runner of all-time.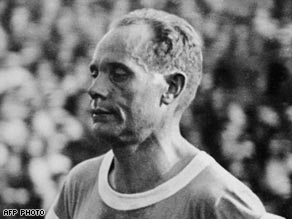 Nurmi won five gold medals in Paris in 1924.
In the decade after Finland gained independence from Russia, Nurmi's Olympic success between 1920 and 1928 helped put his country on the sporting map.
Building on the success of Hannes Kolemainen, who had won gold in the 5,000 meters and 10,000 meters in 1912, Nurmi also established a dynasty of Finnish runners who dominated middle distance running until World War Two.
Introverted and severe, Nurmi was an obsessive athlete in an era when many of his rivals would simply turn up and run.
But in his dedicated and systematic attitude to training -- he never ran without a stopwatch in his hand -- Nurmi took endurance running to new levels.
"There was something inhumanly stern and cruel about him, but he conquered the world by pure means: with a will that had supernatural power," wrote Finnish journalist Martti Jukola.
In 1920, Nurmi arrived in Antwerp expecting to dominate the Games. He suffered a shock in his first race when he came home second behind Joseph Guillemot, but three days later he gained his revenge by beating the Frenchman in the 10,000 meters.
Another victory followed in the cross-country, in which Finland also collected gold in the team event.
Scheduling clash
Four years later in Paris, Nurmi was unbeatable. Even with a scheduling clash that required him to run the 1,500 meters and the 5,000 meters within the space of two hours, Nurmi came home first in both races.
Two days later he won again in the 10,000 meters cross-country, picking up another gold medal in the team event, and two days after that his fifth gold of the Games arrived in the 3,000 meters team event.
Olympic record

1920 -- 3 gold (10,000 meters, cross-country, team cross-country), 1 silver (5,000 meters)
1924 -- 5 gold (1,500 meters, 5,000 meters, cross-country, 3,000 meters team, cross-country team)
1928 -- 1 gold (10,000 meters), 2 silver (3,000 meters steeplechase, 5,000 meters)

Yet Nurmi was dissatisfied. Finnish team officials had prevented him from defending his 10,000 meters record; to prove a point he went home and set a 10,000 meters record that stood for 13 years.

Paris represented the peak of Nurmi's career. He would never better his 1924 world records at 1,500, 5,000 and 10,000 meters.

In Amsterdam in 1928, Nurmi regained the 10,000 meters title -- the race that meant most to him -- but he was beaten by compatriot Ville Ritola over 5,000 meters and by then cross-country events had been dropped from the Games.

Waning on the track, Nurmi turned to longer distances with the ambition of winning the Olympic marathon in 1932.

But it was not to be. In the run-up to the Los Angeles Games Nurmi was accused of professionalism and suspended from competition. He travelled to California instead as a spectator and claimed he would have won the marathon by five minutes.

Nurmi's Olympic career was not quite over, however. A Finnish national hero, in 1952 he carried the Olympic flame into the stadium to launch the Helsinki Games.

He died in 1973 and was honored with a state funeral.

E-mail to a friend

All About Olympic Games • Sports • Running • Long-Distance Running