(CNN) -- With five gold medals at five consecutive Games, the indomitable Steve Redgrave -- now Sir Steve Redgrave -- is Britain's greatest ever Olympian, and one of the all-time great Olympic athletes.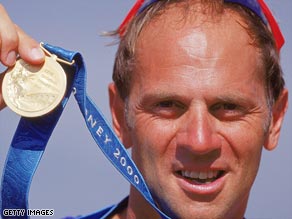 Redgrave became a quintuple Olympic champion in Sydney in 2000.
Given the intense physical requirements of his sport, Redgrave's achievement is unlikely ever to be equaled, let alone surpassed.
Renowned for his tenaciousness, courage and unswerving dedication, Redgrave started rowing at school, where his potential was spotted by his English teacher.
He made his international debut in the single scull in the World Junior Championships in 1979, aged 17.
Five years later he won the first of his five Olympic gold medals, in the coxed fours on Lake Casitas outside Los Angeles, in the process cementing his place at the forefront of British rowing and inaugurating a record-breaking, sixteen-year Olympic career.
His second gold came in 1988 in Seoul, partnering Andy Holmes in the coxless pairs, where they also won a bronze medal in the coxed event.
An obsessive winner, Redgrave would later say that he considered the bronze medal a blemish on his career.
After Seoul Holmes retired from rowing and Redgrave, after toying with bobsleighing for a while -- he was a member of the 1989-90 British bobsleigh team -- teamed up with Matthew Pinsent, with whom he won a further two coxless pairs Olympic gold medals, at Barcelona in 1992 and Atlanta in 1996.
Exhausted after his Atlanta triumph, Redgrave memorably declared: "If anyone sees me get in a boat ever again they have permission to shoot me!"
'Oarsome Foursome'
Despite this, and being diagnosed with both diabetes and colitis, Redgrave could not resist one final Olympic hurrah.
Olympic record
1984
-- 1 gold (coxed fours)
1988
-- 1 gold (coxless pairs), 1 bronze (coxed pairs)
1992
-- 1 gold (coxless pairs)
1996
-- 1 gold (coxless pairs)
2000
-- 1 gold (coxless fours)
At the 2000 Sydney Olympics he competed in the coxless fours with Pinsent, James Cracknell and Tim Foster -- the so-called "Oarsome Foursome."
On Saturday September 23, at Penrith Lakes outside Sydney, he won an unprecedented fifth rowing gold, narrowly beating Italy into the silver medal position.
In honor of his achievement Redgrave was awarded a special gold Olympic pin by Olympic President Juan Antonio Samaranch who declared: "He is an athlete who is really in the golden book of the history of the Olympic Games."
Redgrave subsequently carried the British flag at the Sydney closing ceremony (he had carried the flag at the openings of both the Barcelona and Atlanta Olympics).
Since retiring from professional rowing -- in addition to his five Olympic golds he also won nine World Championship golds and a host of other awards -- Redgrave has embarked on a successful career in promotion and public speaking.
He was awarded an MBE in 1986, a CBE in 1996 and a Knighthood in 2001. He is married with three children.
E-mail to a friend

All About Olympic Games • Sports • Rowing • Steve Redgrave