(CNN) -- Fanny Blankers-Koen stands alone as the only woman to have matched Jessie Owens and Carl Lewis by winning four athletics gold medals at a single Olympics, in London in 1948.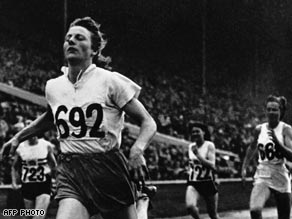 Blankers-Koen: The only woman to win four gold medals at a single Games.
Yet Blankers-Koen could easily have collected even more, but for a rule preventing female athletes from participating in more than three individual events.
As a consequence, Blankers-Koen limited herself to the track, winning the 100 meters, 200 meters, 80 meters hurdles and in the 4x100 meters relay. But she also held world records in the long jump and high jump at the time.
More incredible still, Blankers-Koen -- inevitably nicknamed the "Flying Dutchwoman" -- achieved all this at the age of 30 while pregnant with her third child.
As an 18-year-old Blankers-Koen had been to the 1936 Games in Berlin, collecting the autograph of her hero Owens, but she finished just fifth in the high jump.
Although she went on to win European titles and set multiple world records, the best years of her career were lost to World War Two.
By 1948, Blankers-Koen was a housewife in Amsterdam and considered too old to be a real challenger in London.
But in the space of seven days at Wembley Stadium, she blew the opposition away, with only British training partner Maureen Gardner running her close in the hurdles.
Criticized in the press for leaving her two young sons at home, Blankers-Koen almost quit to return to the Netherlands after winning the 100 meters and hurdles, but her husband and coach Jan Blankers persuaded her to stay.
Olympic record
1948
-- 4 gold (100 meters, 200 meters, 80 meters hurdles, 4x100 meters relay)
On her eventual return she was paraded through Amsterdam in a carriage, and presented with a bicycle, so she wouldn't have to run so much.
"All I've done is run fast," she said with characteristic modesty. "I don't see why people should make much fuss about that."
Blankers-Koen returned to the Olympic stage in Helsinki in 1952, but by then age was catching up with her.
She was forced to quit due to injury in the semifinals of the 100 meters and she abandoned the 80 meters hurdles final after just two hurdles.
In 1999, Blankers-Koen's peerless achievements in London in 1948 were recognized by the International Association of Athletics Federations, which named her as its female "Athlete of the Century."
She died in January 2004, at the age of 85.
E-mail to a friend

All About Olympic Games • Sports