(CNN) -- Former England manager Steve McClaren has signed a two-year contract to take charge of Dutch first division club Twente Enschede.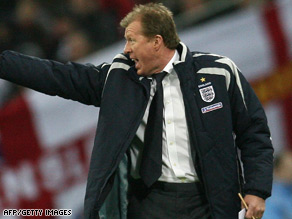 Failure to guide England to the finals of Euro 2008 cost McClaren his job as national coach.
He said: "I am delighted to accept the offer to become the new manager of FC Twente.
"From our first meetings, I have found club president Joop Munsterman and his staff helpful and co-operative, and I cannot wait to get started working with them.
"It is an exciting time for the club, having been so successful under Fred Rutten, and I cannot wait to meet my players and staff and get things going.
"It will be a huge challenge for me to work in the Dutch league and in the Champions League with FC Twente, but I am excited by the prospect and believe we are feeling positive for the campaign ahead.
"My message to the club's fans, supporters I have heard so much about already, is a simple one: we will do everything in our power to take the club forward."
McClaren, whose first important assignment will be to guide Twente through Champions League qualifying, is expected to be formally introduced at a press conference next Tuesday.
It will be a welcome return to football for the Yorkshireman, whose career took a dip when he failed to lead the England national team to the finals of the Euro 2008 championship. He was quickly dismissed.
His coaching career had flourished when he was assistant to Sir Alex Ferguson at Manchester United, then steered Middlesbrough to Carling Cup victory in 2004 and the UEFA Cup final two years later.
He assisted Sven-Goran Eriksson when the Swede was England manager and took over the position as number one after the FA's approach to Luis Felipe Scolari was rejected by the Brazilian.
The appointment ends Twente's search for a successor to Rutten, who has joined Bundesliga club Schalke.
Munsterman said: "We have searched for a long time to find the successor for trainer Rutten, but we have not been nervous.
"It is important for FC Twente to continue the technical policy that has been so clearly defined.
"With Steve McClaren, the feeling was good from both sides.
"In the first instance, it didn't seem possible to make a deal. However, this week, that deal has been made and we are all delighted."
E-mail to a friend