By Cherise Fong
For CNN
(CNN) -- For many of us, our mobile phone is already a smart prosthesis. Not only does it connect us vocally to others, link us to networks of information and entertain us during downtime, it captures what we see and hear.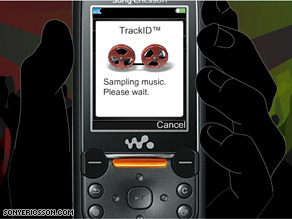 Gracenote's MusicID technology searches its database to name that tune playing in the disco.
In the all-too-imminent Internet of Things, a near-field communication-enabled handset could scan an RFID-tagged poster of a pop star and instantly pull up a video of the artist, tour info on live gigs and an online ticketing service for an upcoming concert, not to mention the fan club on Facebook.
But what if you want to "scan" an intangible spectrum of sound waves heard in the background of a noisy bar? What if the piano man merely raises his eyebrows when you vaguely hum a tune that's stuck in your head? What if you simply like what you hear and want to know more?
Moving toward the Internet of Music, nothing should stop us from grabbing, naming, rating and downloading that tune -- anywhere, anytime.
Fortunately, at least three companies specializing in music-recognition technology are offering their algorithms to a handset near you. While they may all be competing to set the standard for identifying the music itself, each of them has clearly set its own priorities on how it is developing and exploiting its database of tracks and tags.
Mobile-centric
Brits may remember Shazam's 2580 service, launched in 2002, which identified music recorded on a mobile phone and sent back the track name to the user via SMS. That service has been superseded by the more complete ShazamiD, which offers additional cover art, artist bios, reviews, recommendations and purchasing options.
Unfortunately, the above two services are only available to users inside the United Kingdom.
Don't Miss
Founded six years ago by "music and technology enthusiasts," Shazam has remained loyal however to its mobile-music-capture focus, while expanding the music-identification service to 75 carriers in 60 countries, on multiple handsets and platforms including iPhone and Android, with the latter linking out to MySpace for further musical discovery.
Today the Shazam database counts some 6 million tracks dating back to the 1950's, from jazz and popular classical music to grindcore, alternative punk and folktronica.
"Where you get users to choose to download and install our application, for example the iPhone (with over 2 million users), we see a high degree of engagement with the service," says Dominic Pride, Shazam's Product Marketing Director.
"There's a strong overlap between the kind of user who is interested in new things to do with their smartphone and the user who's into new music."
While the Google generation needs to know what everyone else thinks, who's on top and who that wallflower is in the corner, many of the "High Fidelity" Gen-Xers have converted their music collection into MP3 -- so one can imagine all the top-10 and playlist possibilities, all cross-referenced, rated, dated and classified in a nebulously expanding database.
User-generated
The younger search and sound recognition company Melodis, started up in 2005, will appeal more to the YouTube generation, as it adds (and prioritizes) the algorithmic identification of human voice-based searches -- whether by saying the name or humming/singing the tune -- so that users can upload their own cover renditions to the database.
Indeed, its featured product Midomi responds to 52 percent voice searches (singing or humming); 33 percent text searches and only 15 percent grab searches (live recording). Out of the 33 languages it recognizes, the top four are English, Chinese, Japanese and Spanish.
So not only do users enrich the database with original content, but Midomi has embraced the social-networking-site (SNS) trend to create its own SNS of amateur vocalists and music aficionados.
"The main purpose of Midomi is collecting our database of searchable music," says Keyvan Mohajer, founder and CEO of Melodis. "Our singing search engine relies on the contribution of our users around the world to add to our database."
The site even features an "Explore" function, which allows anyone to casually browse full versions of user-crooned content, most interestingly by language. If you're a registered user, you also can comment and rate it.
But if you prefer the professionals, the database also indexes more than 2 million legal tracks by signed artists, which are available for purchase direct from Midomi, or on the iPhone from iTunes.
Voice-controlled
Anyone who has used iTunes to rip a CD has used Gracenote (now a wholly owned subsidiary of Sony Corporation of America), which pioneered music-identification technology in consumer software and sound systems in 2002, just in time for the iPod revolution in 2003.
"People were scrolling through hundreds or even thousands of songs on their MP3 players, and it was considered a significant safety hazard," says Ty Roberts, Gracenote's co-founder and CTO.
"There was the dramatic rise in popularity of in-car entertainment systems, and with it came a need to provide a way for speech-based media control across a variety of digital devices and hands-free access for consumers to their entire music collections in the car."
Gracenote's Mobile MusicID, pre-installed in certain handsets by Sony Ericsson and Samsung, for example, connects to a mammoth database of more than 97 million tracks, including over 7 million CDs and nearly 200 micro-genres, representing more than 200 countries and 80 languages -- from both major and independent labels, as well as the classical repertoire.
And while Gracenote also focuses on developing voice-recognition first, live recording is still their biggest source of musical queries.
"The predominant source for identification is television music, followed by radio, and then other sources like bars and restaurants," confirms Roberts. "After that comes singing or humming."
Nonetheless, Gracenote remains true to a motto of "safety first" in pursuing its vision of voice-controlled everything in the Internet of Music.
"We are working to offer the same voice-operated control technology for the PC and Internet, mobile devices, and home audio equipment, that we do today in the car," Roberts continues.
Among those waiting in anticipation are the visually-impaired.
"What we envision is a microphone that works like a remote-control for music identification, playlisting and recommendations," he says.
Judging by the way things are going, it shouldn't be long before every smart object learns how to become a good listener.
E-mail to a friend