By Steve Mollman
For CNN
HONG KONG, China (CNN) -- You've heard of give-and-take. How about give-and-show?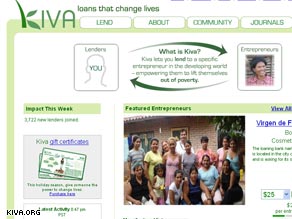 Kiva.org is connecting people through a shared goal of alleviating poverty.
A new breed of social networking sites focused on charity makes it easier not only to give, but also to show others that you're doing so.
Got a problem with that? Philanthropy should stem from a sincere desire to help, of course, not from a desire for recognition.
But there's something to be said for sharing one's passions with a broader community -- and possibly inspiring others.
One site that emerged from beta this summer, Ammado.com, is counting on it.
The site is free to use for individuals and non-profits. It's hoped that other income, for example from corporations looking to improve their corporate social responsibility efforts through the site, will sustain the for-profit venture.
For individuals, using Ammado is a bit like using Facebook: You can share your hobbies and favorite movies, add friends, and post photos of yourself.
Don't Miss
Unlike Facebook, there's a feature called the Giving Circle, a multi-colored wheel where each color represents a charity category, such as disabilities, environment, and human rights.
Visitors can see what percentage of your giving goes to what category based on how much of your circle is that color. And if they click on the color, they'll see the names of the charities you've given to in a box below.
If that seems showy, consider that "any charity that has donors would love all their donors to talk about the money they gave," notes Joeri Gianotten, a managing director for Ammado.
"It's like going to great restaurant and never talking about it to your friends."
So while "social credit" is one reason people give -- you can display the Giving Circle on your blog, too -- another is the hope that it will inspire others to do the same.
Below the Giving Circle, visitors can not only see your charities, but also link to and easily donate to them as well.
The site Change.org is similar to Ammado.com, with the same kind of social networking aspect. Charities on either site go through a thorough vetting process before they can be listed.
Another site, the non-profit Kiva.org, is also social in nature, but instead of donations to charities, it lets you make interest-free loans to entrepreneurs in developing countries.
Brooke Estin, a 24-year-old who works at a non-profit in Bangkok, has made nearly two dozen personal loans of $25 each to entrepreneurs from Azerbaijan and Kenya to Samoa.
She decides which to give to based on their profiles, posted on the site. Estin teamed up with other givers to lend $325 to Khurshida Tursunova, a woman who lives in Tajikistan and used the money to buy a cow and then sell milk products.
Some such entrepreneurs remain unaware of Kiva.org -- or of the Internet, for that matter -- even as they benefit from both. Kiva teams up with micro-finance organizations on the ground, which vet the borrowers to help ensure they can repay their loans (about 98% do, as did Tursunova).
But some recipients do become aware that a group of random foreigners, in Tursunova's case from Canada, the U.S. and Israel, has formed online to help them -- and to follow their progress through email updates.
For one such woman, says Estin, it was actually "empowering for her to be able to show someone, 'Look at how much I've accomplished -- thank you.'"
As satisfying as helping with loans is, says Estin, it's the information-sharing aspect of the social networking that's been key for her.
Even if it's just the sharing of web links, "the primary thing that I've been able to get from it is exposure to ideas," she says. "I think there's a hugely significant amount of power behind it."
One site, the non-profit Nabuur.com, goes beyond networking and ideas sharing with like-minded people. In addition to that, it lets you communicate directly with the needy themselves.
Instead of giving money or a loan, you share your knowledge, expertise, or just advice to help them improve their lives.
For instance there are some organizers in the beautiful but obscure Sankhuwasabha district in Nepal who are certain their homeland has much to offer visitors but don't know how to make it a tourist destination. Have any ideas for them? Do share. You might make some new friends in the process.
E-mail to a friend