By Emma Clarke
For CNN

LONDON, England (CNN) -- As the global recession bites, frequent flyers are cashing in more airmiles and loyalty points to subsidize routine travel needs.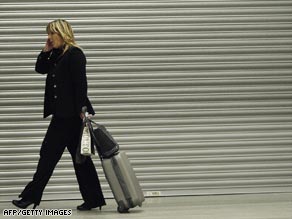 For some business travelers, the appeal of frequent-flier awards is fading.
American Airlines has seen a 10-15 percent increase in redemption over 2007 on AAdvantage, its frequent flier program.
InterContinental Hotels Group, that owns Intercontinental, Holiday Inn and Crowne Plaza, is reporting "record levels" of redemptions from their Priority Club members around the world.
Frequent-flier guru and publisher of InsideFlyer magazine, Randy Petersen, expects to see the largest ever increase in reward redemption this year.
In an average year, he says, redemption is narrowed to popular and select destinations. But rather than save up points for a family holiday in Hawaii or a weekend break in Paris, frequent flyers are surrendering their hard-earned points on routine business trips and family emergencies.
"They may not be getting great value," he says, "but they think it is better to use the miles and save their money."
Eighteen months ago, IHG customers accumulated loyalty points for the occasional splurge in a hotel. Now they are spending them on everyday goods such as fuel, wine, or Christmas shopping.
As IHG chief executive, Andy Cosslett told CNN in October, "suddenly loyalty points mean a lot. Now they're a currency."
Improvements in booking tools have also encouraged travelers to spend miles, says Petersen.
Frequent flyer programs now add partner airlines' award seats into their online booking process. And new online facilities such as calendars also give customers a clearer view of seat availability.
Another spur for the run on airmiles has been a growing disenchantment among business travelers with award programs.
These days there are too many passengers chasing too few seats, frequent flyers complain. Airlines are also raising mileage standards and shortening expiration periods, making it more difficult for them to get the seats they want for free.
In early September, Continental Airlines decided to change rules for its OnePass program which means members now earn the actual miles flown rather than a minimum of 500 miles per flight.
A barrage of complaints forced a partial retraction which means elite members are exempt from the change.
American Airlines' AAdvantage program has imposed a $50 charge to upgrade a one-way domestic flight from economy, and a $350 charge for some international flights.
Virgin Atlantic will reduce the number of miles earned by some of its Flying Club passengers from 1 December. Upper Class passengers traveling on discounted or non-flexible tickets will earn 150 per cent of the base flown miles, down from 200 percent.
High flyers, such as forum user, RichardInSF, posting on FlyerTalk, an online forum for frequent travelers, says it is time to burn rather than earn points. "US carriers are devaluing frequent flyer miles so much that it's time to burn and then not bother going forward," he says.
But these changes need not spell trouble for business travelers, says Petersen. In fact, they help preserve premium awards for the most active members and frequent flyers of programs.
As he explains, airlines continue to add partners to their programs making it easier to earn miles on anything from hotels to groceries. Award level increases are a way to keep up with over inflation, or more miles being earned, he says. "Without increases like these, airlines would endanger themselves to having anyone walking down the street earning miles in first class."
That said, he adds, there have been some "disappointments" in recent months, such as the decision by airlines to attach a fuel surcharge on frequent flyer redemptions.
"This has clearly exposed that airlines are treating these programs as an extension of their airline business, and not programs to reward their best customers," he says.
But as the oil price drops, allowing airlines once again to make money flying people around the world, they are reinstating benefits for frequent flyers and introducing attractive short-term promotions to fill seats.
Fuel surcharges have receded across most airlines' programs.
US Airways has reinstated bonus miles and 500-minimum-miles benefits for customers with Preferred membership in its Dividend Miles program.
British Airways is offering Executive Club members 50 percent off all return standard redemption bookings until midnight GMT on 28 November.
Qantas released 1.5 million FrequentFlyer seats on for travel between December 1 and February 29.
As the benefits return, Peterson expects travelers' fixation with earning and spending miles to continue unabated.
"While pundits cry out that frequent flyer miles have lost their appeal, membership will grow another 8 to 11 percent this year," he says. "There are absolutely no signs that these programs are failing."
Getting the most from your points
Plan ahead - book very early or last minute to get the best deals
Do your research - the Internet can bring you a "treasure trove of information," says Petersen.
Be flexible - shop around for flights that require fewer miles to redeem. Instead of flying Friday, Saturday or Sunday, try to book midweek. And instead of Orlando, one of the top award destinations, look at Miami, or Tampa, or cities around it.
Know the program - pay attention to when your miles expire and keep the account active. You could take a survey on the Internet and earn enough miles to keep your miles active.
E-mail to a friend

All About InterContinental Hotels Group plc • British Airways plc • Business Travel • Qantas Airways Ltd.